Costco West Sales Items for Oct 31 – Nov 6 for BC, Alberta, Manitoba, Saskatchewan
Happy Halloween everyone!  I have been running this blog for just over one year and I was really excited last week when my Facebook Page passed 30,000 likes!  It has been an honour to be able to share these deals with such a large audience!  I just wanted to say thanks to everyone for checking out this site.  I promise to keep posting for as long as possible.
For those of you who have been with me since the beginning, you will know that I had my first child one year ago.  Balancing the a full time job, the website and a new baby has been an interesting challenge for our family.  This week she caught a cold at daycare and got the whole family sick – no one is getting any sleep in our house!  She has grown up to be quite the little monster – but we love her anyways!  TRICK OR TREAT!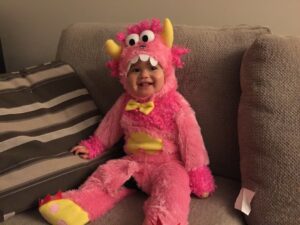 This weekend, the whole family has been sick so no comments this week on sales items.
Happy Shopping!
If you are interested in seeing what Costco is selling in the seasonal section (Halloween and Christmas) CLICK HERE!!!
If you are interested in seeing what is on sale in US Costco (the sales last for the month) CLICK HERE!!
One thing to keep in mind when reading this blog is that sales items in the meat and produce section are store dependent – the manager sets the sales for these items.  For that reason, the chicken sales that you see this week (and last) may not be available at your store.  Also, any items on the blog that end in '.97' means the item is on a clearance.  These '.97' items are also store dependent.  If you are interested in one of these products you can check with customer service to see if any of the items is available at a nearby store!  If you purchased the product previously and it has gone on sale, if you bring in the original receipt and you have purchased the product withing 30 days (or longer, depending on the employee), Costco will refund you the difference!
Happy Shopping!
Check out my post about Five ways to Save Money at Costco!!!
Use these posts to make the best use of your Costco Card! I have done all the hard work for you and have a weekly listings of all the Costco Sales Items and flyers. Costco does not publish these Costco sales items; the only way to find out what is on sale is to walk the whole store! Come back every Monday to find out what is on sale for the week. The sales may vary slightly by store, but are generally pretty consistent between Western Canada. If there is something you really want, please make sure to double check the expiry date as some of the Costco sales items have been known to end mid-week.
If this blog has helped you save money or has provided you with some entertainment, consider sharing cocowest.com with your friends and family! Alternatively, you can join the Costco West Facebook group to get updated whenever there is a new post! https://www.facebook.com/costcowestcoupons/. Follow me on Twitter at: @CostcoWest!
There is a new option to subscribe to website updates via Email at the top right of every page. Sign up if you don't want to miss a post!