UPDATED 2017-05-05: Are Costco Pekkle Sleepers Going To Be Recalled?
Hi Everyone!
Some of you may have noticed that Pekkle sleepers have disappeared from the clothing aisle.  These Pekkle Sleepers have been the only thing that my daughter has worn since she was a baby!!!  One Quebec news station is saying that these Pekkle Sleepers have been recalled.  I know these sleepers are a favorite for many people and I want to warn people as soon as possible.
From the article: "We pulled out the product and notified Health Canada and the supplier, and then we're expecting directions from Health Canada," Costco spokesperson Ron Damiani said.
There has been no official word yet from Costco, but I will keep you updated with anything that I hear.  In the meantime, I will temporarily to be finding something else for the baby to sleep in.  Costco may be looking a quite a lot of sleeper returns in the future – especially with their refund policy:  **Costco guarantees your satisfaction with the merchandise you purchase from us.**
EDIT: I have heard from quite a few Costco employees about this post and it sounds like Costco has definitely stopped selling the Pekkle onesies.  They were pulled about 3 weeks ago due to issues with the snaps falling off.
I have heard that they are working with Health Canada to identify the lot numbers of the affected sleepers so they can issue a recall.  Again, If I hear any more information, I will keep you updated.  In the meantime – check the buttons on your Pekkle onesies if you are still using them.
EDIT #2:  Here is the latest article I could find!  Which has some more information.  The article has been translated from French using Google translate:
http://www.iheartradio.ca/energie/energie-saguenay/nouvelles/les-pyjamas-pekkle-retires-des-tablettes-1.2585516
Costco removed Pekkle's childrens pajamas from their shelves following an incident that caused minor injuries to a baby.
It is not known at this time whether it is a single manufacturing defect or whether the whole of the goods is affected by the problem.
Costco spokesperson Ron Damiani said the products were withdrawn on the same day and a report was sent to Health Canada.
The company is awaiting Health Canada's investigation report before deciding whether a recall will be issued.
The government agency confirms that Costco has received 2 Pekkle pajamas related complaints in the last month.
EDIT #3:  Here is an article from CBC with some more information.
Want to see the UNADVERTISED, SECRET COSTCO SALES FOR May 1-7 for BC, Alberta, Manitoba, Saskatchewan?  Click on this link!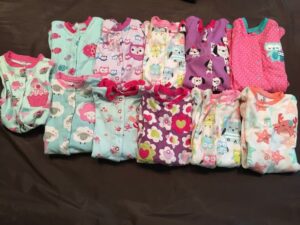 http://www.tvanouvelles.ca/2017/05/03/retrait-des-pyjamas-pekkle-parents-inquiets-theories-de-toutes-sortes
Pekkle Pajamas Removal: Concerned Parents, Theories of All Kinds (Translated with Google Translate)
Pekkle baby pajamas were removed from the sale of Costco warehouse stores in Canada, but the company refuses to give the reasons for this significant withdrawal.
These popular pajamas are considered dangerous by the company.
A sufficiently serious incident motivated the multinational to remove them from all its stores in Canada.
These children's clothes are made in China.
TVA News tried to have the reaction of young families who shop at Costco, but our reporter was asked to leave the premises by employees.
The parents said they were very worried because several of them still had these pajamas in their possession.
"We pulled out the product and notified Health Canada and the supplier, and then we're expecting directions from Health Canada," Costco spokesperson Ron Damiani said.
Despite the spokesperson's statement, Health Canada says it has never received a communication from Costco for a problem with these nightwear.
No test or analysis can be performed on these items that would pose a health risk.