Hi Everyone,
As someone who spends more time on the internet than most people, I'm always on the lookout for the best cell phone plan that offers data.  The plans that have just been released are the best plans that have been offered to the general public in a long time!  The offer will expire on December 18 / 19 depending on the carrier – jump on these quick if you are interested.
For those of you in BC and Alberta, the introduction of Freedom Mobile into the cell phone market has made a significant dent into the price for cellular phone plans this weekend.  Right now, Rogers, Telus and Bell are offering their own versions of $60 BYOD (Bring Your Own Device) phone plans.  For these BYOD plans, a device subsidy is not provided and you cannot share this data with other devices.  You have to buy your own phone outright (or keep using the phone you have); however, for those of you whose contracts have run out and you are stuck on an old plan, this may be a great option for you!  These plans are month to month only and no contract is necessary.  To take advantage of this offer, you will have to either be out of a contract or pay an early cancellation fee to get out of your contract.  Also, if you want to stay with your same carrier, you will have to phone into your carrier's customer service to make the change.  There was a $15 charge to activate the new plan, but it was waived by the customer service agent.  A store will not be able to upgrade to this plan unless you are changing from a different carrier.  I was on hold with Telus for 1 hour 50 minutes today.  It was a good thing that I had a lot of Christmas cards to write.  – So be prepared for a long wait on hold and try to be nice the customer service agents at this time of year.
For example, Telus is offering:
Bring Your Own Device Plan $60/month + tax
– 10GB data
– Unlimited Canada-wide calling
– Unlimited text + MMS
– Caller ID & Voice Mail
(Visual Voice Mail available for $2 a month)
I was assured by a customer service representative that tethering will be allowed on this plan; however, it is not working as of yet.  Apparently the feature will be added in the next couple of days.
The plan for Telus expires on December 19, 2017, so you only have a couple of days to take advantage of this offer.  Although you never know – Freedom mobile is offering the same plan but for $50 a month – will this competitor herald a new era of lower mobile phone prices?
Rogers has the same deal right now.  Although the website says $60 for 5GB plus 5GB, the plan has been changed to 10Gb to match the other phone plans.  The plan for Rogers is set to expire December 18.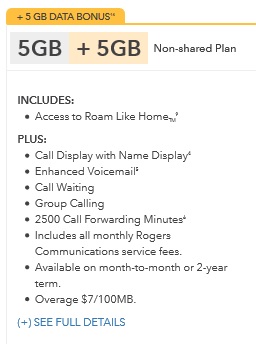 The Bell plan is the same as the others.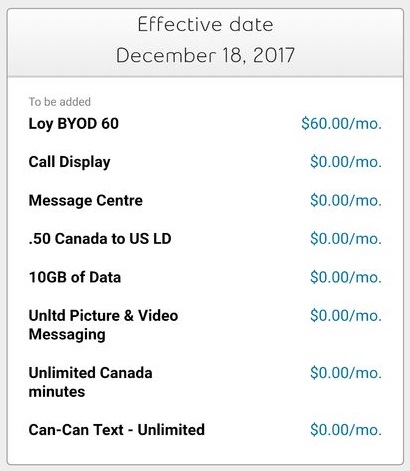 Are you on another carrier?  Don't worry!  Koodo, Fido, Virgin AND Freedom Mobile are all offering this package as well!  Just call 611 to reach their customer service and ask for the $60 BYOD plan!
Happy Shopping!