$25 Loblaw Card – Manual Registration Form Downloadable PDF
Hi Everyone!
I'm not sure about everyone else, but on Friday, I received my $25 Loblaw Card as a part of their settlement after they were investigated by the Competition Bureau for the coordination of price fixing specific bread products from 2001 to 2015.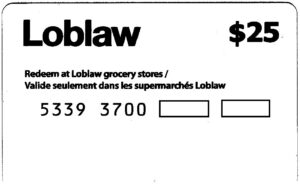 I have been contacted by quite a few people who would like their older relatives to apply – who do not have access to the Internet.  After an E-mail to the customer service line, I received a manual registration form that I have posted a the following link for anyone to download!  Feel free to share this link with anyone who would be interested!!!
$25 Loblaw Card – Manual Registration Form Downloadable PDF – DOWNLOAD HERE
I would also like to encourage everyone who has the means to either:
Donate their $25 Loblaw Card to the Food Bank of their choice or
Donate $25 to the Food Bank (for which you will receive a tax receipt) and use the $25 Loblaw Card at Loblaws
Personally, I will be using the $25 to buy some groceries and I have already donated $25 to Food Banks BC (see receipt at the bottom of the E-mail).  For those of you who have never donated before, I have attached the tax receipt you receive instantly at the bottom of this E-mail.  You can provide this to your accountant, or enter in the information into your tax software to calculate your tax refund!
Here are the links to the food banks in the Western Half of the Province where donations can be made directly:
If you would prefer to donate to your local (City Food Bank), you can search and donate to your local food bank at:
Here is some information about my local Vancouver Food Bank and some of the work that they do.