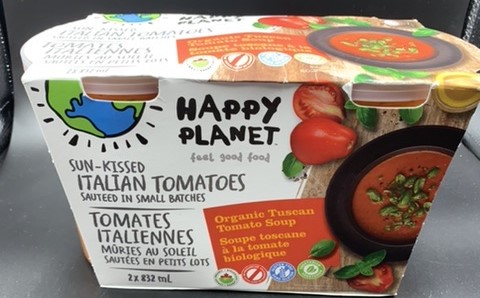 Happy Planet Organic Tuscan Tomato Soup
Colder weather means it's time to try all the soups Costco offers!
Please note that this review was not paid for or sponsored by any third party. I purchased this product with my own money and the opinions in this review are strictly my own. I am not affiliated with Costco or any of its suppliers. I am just a fan of the company. I write these reviews to help my fellow shoppers.
Hi everyone! Costco has a ton of new food products I can't wait to try so if you enjoy reading Costco food products reviews  follow me on Instagram or Facebook and also check out my blog Costcuisine where I review tons of Costco food products each week! Last week I posted a review for the Costco Organic Dried Mangoes and the new delicious Diva Delights Butter Shortbread Cookies! 
It's officially soup weather! One of my favorite meals as a kid was grilled cheese sandwiches and tomato soup. Who else loves dipping grilled cheese sandwiches in tomato soup? It's so good! Today, I'm reviewing the Happy Planet Organic Tuscan Tomato Soup.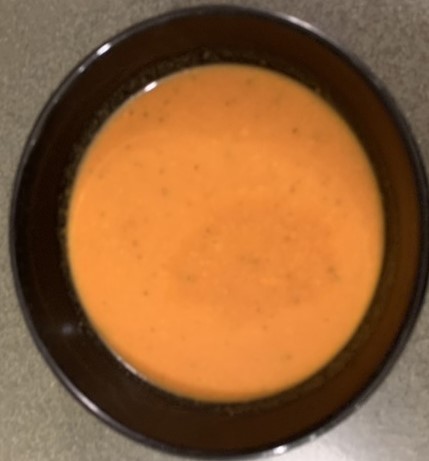 Taste
The first thing I noticed about this soup was that I found that it tasted a little less tomato-y and less sweet than other tomato soups I've had; it's more creamy and also quite tangy! I'm still not quite sure if I love the tang or not. There are a lot of herbs in this soup, so that likely contributes to the tanginess. My husband commented that the soup had an ever-so-slight plastic taste and thought the herbs might be the culprit. Personally, I'm used to more traditional tomato soups that are sweeter, darker, have a heavy tomato flavor. For that reason, the Happy Planet Organic Tuscan Tomato Soup isn't going to become my favorite, go-to tomato soup. Overall, I'd say it's just okay. With that being said, I can confirm that it still pairs well with grilled cheese sandwiches! That might just be because I love grilled cheese sandwiches though…
Cost
A pack of two 650 milliliter containers of Happy Planet Organic Tuscan Tomato Soup cost $10.99 Canadian at Costco – not cheap for tomato soup! I guess you have to take into account that it's organic, but that still seems pretty pricey to me. Regular old cans of soup aren't as cheap as they used to be though! The price point is similar to the other soups offered at Costco.

Convenience
This soup is soup-er easy to heat up! Sorry, I couldn't resist using that somewhere in this review. You can either microwave it or put it in a pot on the stove. Both methods work well and are very convenient! The best-before date is about two months from the purchase date. That seemed like a very long time for a non-canned soup to me, but in my opinion it adds to the convenience factor as you can keep the containers of soup sitting in your fridge for a while. However, it will need to stay in your fridge and then be consumed within a few days after being opened.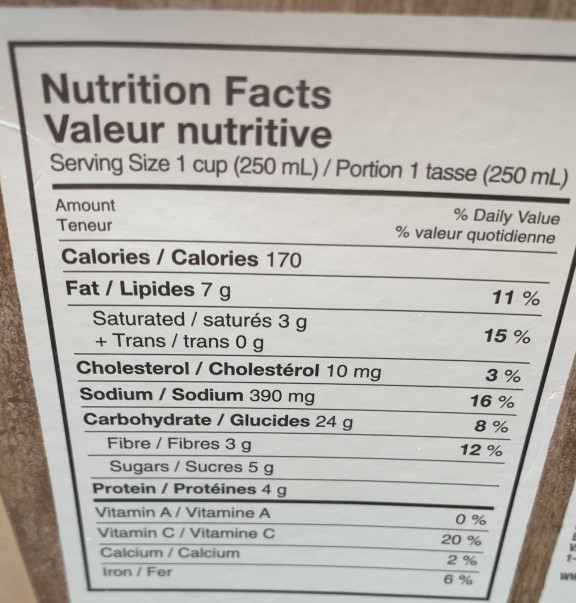 Nutrition
The ingredients list for the Happy Planet Organic Tuscan Tomato Soup is short and sweet; all of the ingredients were ones that I recognized! One cup of soup contains 170 calories, seven grams of fat, 390 milligrams of sodium, 24 grams of carbohydrates, three grams of fibre, five grams of sugar and four grams of protein. The sodium and fat content seem slightly high, but the amount of sugar isn't outrageous (surprisingly, most tomato soups have added sugar).
I probably won't buy the Happy Planet Organic Tuscan Tomato Soup again, since I prefer a traditional, very tomato-y tomato soup. If you're tired of having the same old tomato soups, this might be right up your alley!
Taste: 6.5/10
Cost: 6/10
Convenience: 9.5/10
Nutrition: 7.5/10
What's your favorite soup from Costco?!