Shrimp lovers, you're in luck!
Please note that this review was not paid for or sponsored by any third party. I purchased this product with my own money and the opinions in this review are strictly my own. I am not affiliated with Costco or any of its suppliers. I am just a fan of the company. I write these reviews to help my fellow shoppers.
Sean isn't a huge fan of shrimp, but he was agreeable to trying these Sato Asian Fare Shrimp Wontons from Costco, so I picked up a box to try!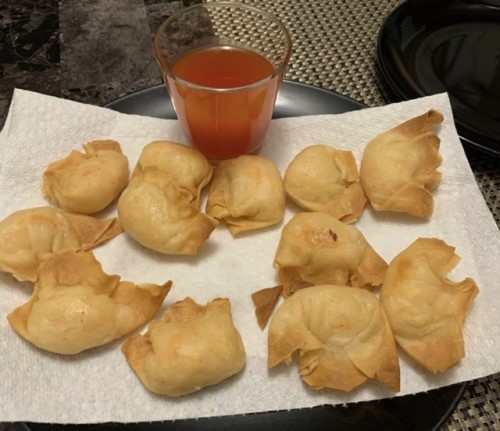 Taste
There's no shortage of shrimp here! The wontons are packed full of deliciously-seasoned shrimp. There isn't a lot of other filler; just a few small pieces of water chestnut. The sweet and sour sauce that comes in the package is sweet and super delicious. I cooked my wontons using the oven method, and the wrappers came out golden brown and crispy! If you like deep-fried shrimp, I think you'll really enjoy these wontons. The only thing I didn't enjoy about them is that I found the shrimp filling a little mushy – I didn't love the texture of the shrimp. That might just be me though.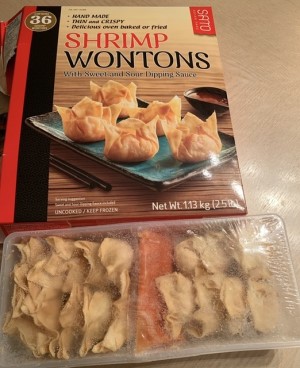 Cost
The Sato Asian Fare Shrimp Wontons aren't cheap, but there are a lot of shrimp in the box. Costco's regular price for the box of 36 wontons is $16.99 Canadian. Shrimp are generally fairly expensive, so that price seemed reasonable to me.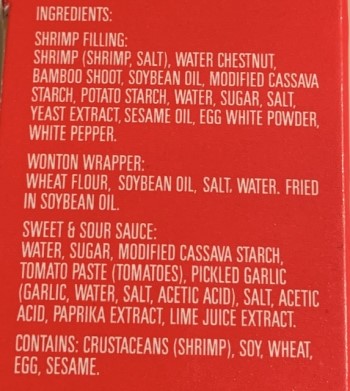 Convenience
The wontons were very easy to bake in the oven! I baked mine at 400 degrees Fahrenheit on a cookie sheet lined with parchment paper for 14 minutes. I flipped them once halfway through (at the seven minute mark). In terms of the packaging, the wontons are packed into two trays with 16 wontons and one packet of sauce each. My husband and I can only eat about eight wontons at a time between the two of us, so I would have preferred four smaller trays with eight wontons and a smaller sauce packet. Alternatively, it would have been nice if the trays were somehow able to be resealed so that you could take out a few wontons at a time. I ended up putting the wontons I didn't bake into a freezer bag, so it wasn't the end of the world. The wontons need to be stored in the freezer until you're ready to cook them.

Nutrition
Three wontons with sauce contains 210 calories, nine grams of fat, 440 milligrams of sodium, 25 grams of carbohydrates, 12 grams of sugar and eight grams of protein. Definitely not the worst thing for you, but a little high in sodium and the sauce is definitely full of sugar!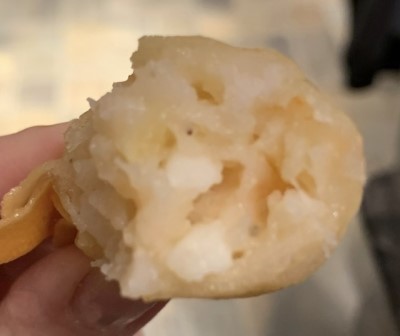 I probably won't buy these again because there are other Asian-style appetizers that I prefer at Costco (such as the potstickers and steamed dumplings!). These were tasty, but the texture of the shrimp was a bit off-putting for me.
Taste: 7/10
Cost: 7/10
Convenience: 8/10
Nutrition: 5/10
Are you shrimp fan? Does your Costco carry these?