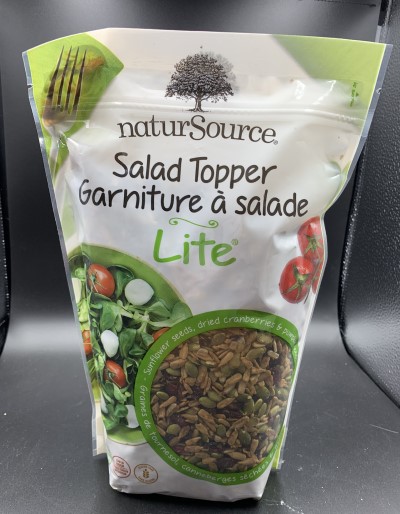 Full of healthy fats and a way to save money instead of buying salad kits!
Please note that this review was not paid for or sponsored by any third party. I purchased this product with my own money and the opinions in this review are strictly my own. I am not affiliated with Costco or any of its suppliers. I am just a fan of the company. I write these reviews to help my fellow shoppers.
Convenience
Is anyone else guilty of buying salad kits because they're just so convenient and have all the toppings in a nice little ready to use packet? I frequently buy pricey salad kits for the convenience factor when I know if I just picked up a few bulk ingredients for toppings I could make delicious salads myself for less. This is why I picked up the naturSource Salad Topper Lite at Costco. This salad topper can be added to fresh salads and so many other dishes! You can add it to pasta salad, rice dishes, use it to top roasted vegetables like Brussels spouts and I've even used it on top of a baked sweet potato! The bag is resealable which is appreciated and the best before date is about four months from the date I purchased it.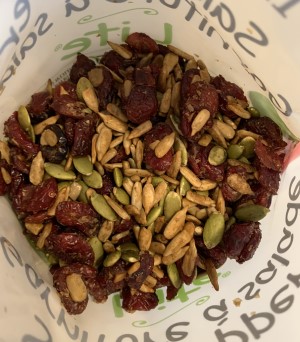 Taste
This salad topper has sunflower seeds, dried cranberries and pumpkin seeds. The pumpkin seeds and sunflower seeds are lightly roasted and taste extremely fresh. The cranberries were soft and sweet. Overall I enjoyed the salad topper and they've added some flavoring/seasoning by coating the salad topper in tamari sauce which has a salty, savory flavor.  This definitely makes it more flavorful but it there's some foods that the savory tamari sauce clashes with so it makes it slightly less versatile, for example this doesn't taste great as a yogurt or oatmeal topping.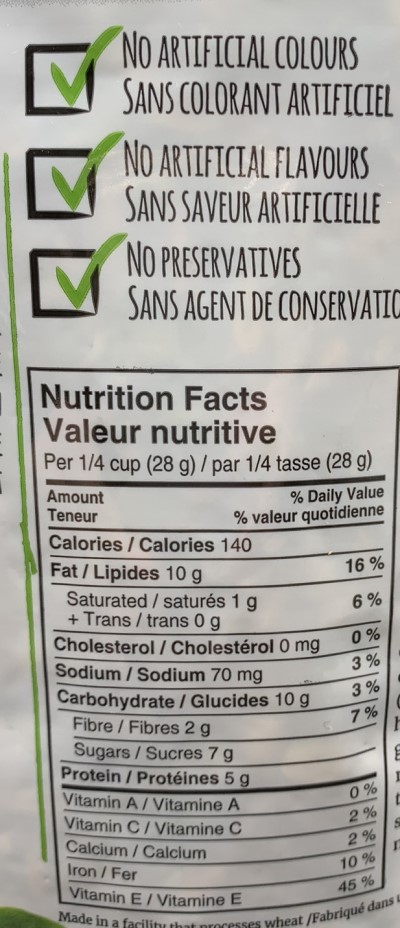 Nutrition
¼ cup of the salad topper is 140 calories, 10 grams of fat, 70 mg of sodium, 10 grams of carbohydrates, two grams of fibre, seven grams of sugar and five grams of protein. It's easy to eat much more than ¼ cup though! The mix is gluten free, has no preservatives, no artificial colors or flavors, has natural ingredients and is low in sodium. The fat may seem slightly high but it's healthy fat you're getting from the seeds.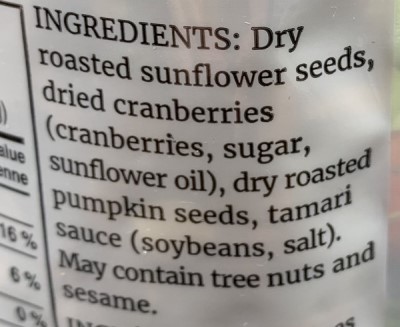 Cost
The 1 kg bag of Natursource Salad Topper cost $9.99 Canadian. Not super cheap but it's a big bag and if you decide to buy this and make your own salads instead of pre-packaged salad kits with the same toppings inside you'll end up saving money.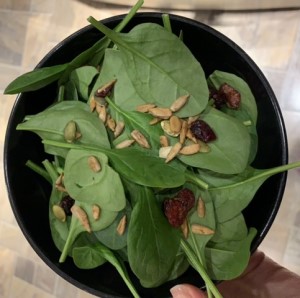 This is a great way to save money if you're like me and love the toppings in the pre-packaged salad kits from Costco like the Eat Smart Sweet Kale Salad Kit. My only wish is that they didn't use the tamari sauce and kept the flavor super simple so I could use it on other foods.
Convenience: 10/10
Taste: 8.5/10
Nutrition: 7.5/10
Cost:  7.5/10
What are your favorite toppings to add to your salad? Would you buy this? Why or why not?