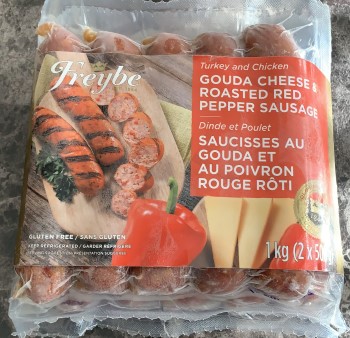 Lower calorie sausages perfect for summer!
Please note that this review was not paid for or sponsored by any third party. I purchased this product with my own money and the opinions in this review are strictly my own. I am not affiliated with Costco or any of its suppliers. I am just a fan of the company. I write these reviews to help my fellow shoppers.
Summer is upon us! Who doesn't love a good BBQ with hot dogs? If you're looking for a lower calorie, lower fat, healthier alternative this summer you might want to try the Freybe Turkey and  Chicken Gouda Cheese & Roasted Red Pepper Sausage from Costco.
Cost
I paid $14.99 Canadian for the ten sausages in the Freybe Turkey and Chicken Gouda Cheese & Roasted Red Pepper Sausage pack from Costco. Definitely not as cheap as a lot of sausages but not super overpriced!

Convenience
These are easily heated on the barbecue or in a fry pan and they're fully cooked so that's convenient. After I open my pack I directly put them in the freezer and take out a sausage whenever we're having hot dogs for dinner. My husband eats the Kirkland Signature Beef Wieners and I eat one of these. The package states you should consume the sausages three to five days after opening the pack. These sausages can be enjoyed along with a salad or rice on the side or as a "hot dog".  They tasted fine with ketchup and mustard but you could probably be experimental with toppings or sauces!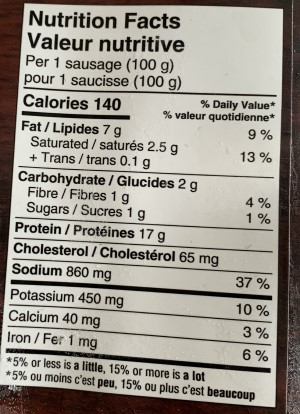 Nutrition
One sausage is 140 calories, seven grams of fat, one gram of sugar, 860 mg of sodium, 17 grams of protein, one gram of fibre and two grams of carbohydrates. Low in carbs, fat and calories but high in sodium! The ingredients list is pretty straight forward but does contain corn syrup and dextrose.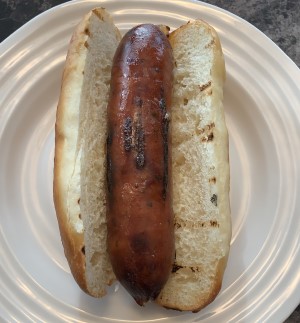 Taste
These are pretty enjoyable! The gouda and roasted red pepper flavor isn't very strong so if you're not a gouda/cheese fan don't worry. You can noticeably see bright red pepper chunks in the sausages which for some reason I didn't really find visually appealing. The turkey and chicken combination creates a leaner tasting sausage that I actually prefer over pork or beef sausages. The sausages aren't very soft and the casing is a medium thickness (like a smokie).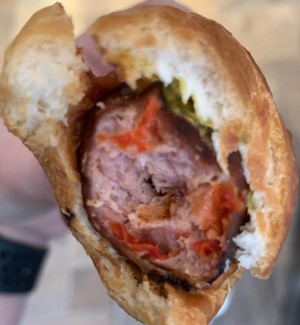 I enjoyed these and can't pick out anything in particular I didn't like about them but I think I prefer the original Freybe Smoked Turkey & Chicken Sausage.
Taste: 7.5/10
Cost: 7/10
Convenience: 9.5/10
Nutrition: 8/10
What's your favorite barbecue food? Would you try these? Why or why not?