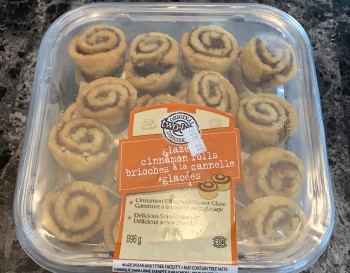 A sweet treat for breakfast or a snack!
Please note that this review was not paid for or sponsored by any third party. I purchased this product with my own money and the opinions in this review are strictly my own. I am not affiliated with Costco or any of its suppliers. I am just a fan of the company. I write these reviews to help my fellow shoppers.
Hi it's Natalie from Costcuisine! If you like my reviews for Costco food products the greatest thing you can do is follow me on  Instagram or Facebook and also tell yours friends about my blog Costcuisine where I review tons of Costco food products each week! 
Hi everyone! Last time my husband and I were at Costco we picked up the Costco Original Two Bite Glazed Cinnamon Rolls as a treat. I decided to review them on the blog because I think they're perfect for a Summer BBQ, picnic or camping trip!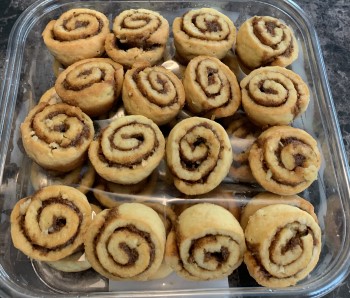 Cost
I paid $9.99 Canadian for the 896 gram container of cinnamon rolls! There's quite a few cinnamon rolls in the container so $9.99 isn't overly expensive in my opinion.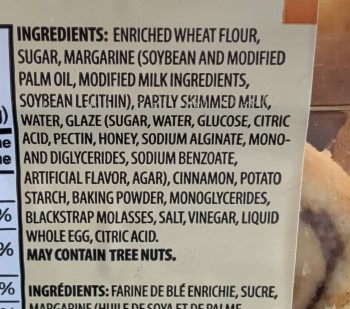 Convenience
The cinnamon rolls come in a convenient resealable plastic container. They freeze really well and the best before date was well over a week from the date we purchased the rolls. These would be convenient for breakfast, a snack or to serve at a BBQ, picnic or bring on a camping trip.
Nutrition
Ugh! So not healthy. I ate two of these in like two seconds and probably could have had another. Two cinnamon rolls is 210 calories, eight grams of fat, 170 mg of sodium, one gram of fibre, 14 grams of sugar and three grams of protein. The ingredients list is full of not so healthy ingredients as I expected.
Taste
These are pretty tasty! Not overly amazing or anything to go crazy over but they're pretty good. They're a little different than your standard cinnamon bun, the dough is a bit thicker and kind of crumbly.  They almost taste like a very dense cinnamon roll/muffin hybrid. They're a little on the dry side but I decided it probably wasn't a good idea to slather butter on top considering these are already pretty high in calorie. They're definitely sweet and I wish they had a tiny bit more cinnamon flavor. I think kids would really like these!
These were fun to try, I think they're okay but they're not my favorite! I do think they'd be pretty convenient on a camping trip or something like that and I also think kids would love these over the summer holidays!
Cost: 8/10
Convenience: 10/10
Nutrition: 1/10
Taste: 7/10
What's your go to Costco bakery aisle treat?!