Robust, bold coffee beans!
Please note that this review was not paid for or sponsored by any third party. I purchased this product with my own money and the opinions in this review are strictly my own. I am not affiliated with Costco or any of its suppliers. I am just a fan of the company. I write these reviews to help my fellow shoppers.
I thought I'd switch things up and do a coffee review! I have a lot of love for coffee and Costco carries numerous different kinds of coffee beans as well as Keurig cups etc. Today I'm going to be reviewing the Ethical Bean Lush Medium Dark Roast Coffee Beans.
This 907 gram bag of whole coffee beans costs $16.99 Canadian regular price at Costco. I have seen the beans before for $3.50 off so you might want to keep your eyes peeled for that deal!
These are whole beans so they do need to be ground before you make coffee with them and using whole coffee beans is definitely not as convenient as a Keurig or Nespresso. I really enjoy grinding my beans in the morning and making fresh coffee. The best before date on the beans is about 10 months from the date I purchased them and the bag is resealable which keeps them nice and fresh!
Coffee is something that some people see as a healthy way to start your morning and others see as something to avoid. I love how subjective food/beverage opinions can be! The Ethical Bean company uses fair trade, organic coffee beans. If you drink your coffee black there's pretty much zero calories, if you add cream and sugar there's obviously some sugar, fat and calories in your coffee.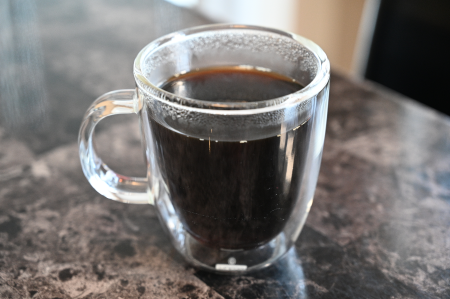 I actually really enjoyed the taste of this Arabica coffee, it's bold and rich with nice balanced acidity and roast. The beans are shiny and fragrant but not overly oily. I don't love super acidic coffee and found this medium roast wasn't really at all acidic tasting. It was smooth and easy to drink with a hint of chocolate and nuttyness. I didn't find any stale or gross beans in the bag either.
I would definitely buy this coffee again and look forward to trying some of the other Ethical Bean coffees available at Costco
Cost: 9/10
Convenience: 4/10
Nutrition: N/A
Taste: 8/10
Coffee or tea which do you prefer?