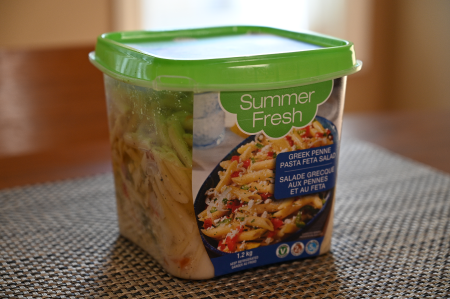 If you like my reviews for Costco food products the greatest thing you can do is follow me on  Instagram or Facebook and also tell your friends about my blog Costcuisine where I review tons of Costco food products each week! You can also check out my Youtube Channel where I do video reviews for Costco products! 
I noticed a few new products the last time I stopped at Costco and one of the new products was this Summer Fresh Greek Pasta Salad. This can be found in the refrigerated section near the other deli salads as well as the dips!
I paid $7.99 Canadian for the 1.2 kg tub of pasta salad.
The best before date is about two and a half weeks from the date I purchased the pasta salad. It needs to be kept refrigerated and comes with a plastic wrap seal. This is perfect to have as a side with chicken, burgers, hot dogs, steak or fish! You can also add more veggies of your choice and enjoy it as a filling lunch.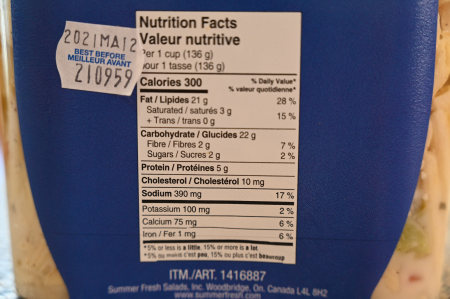 You definitely have to watch your portion sizes with this product, one cup has 300 calories, 21 grams of fat, 22 grams of carbohydrates, two grams of fibre, two grams of sugar, five grams of protein and 390 mg of sodium. That's a lot of fat in only one cup! I could easily eat two cups of this or more!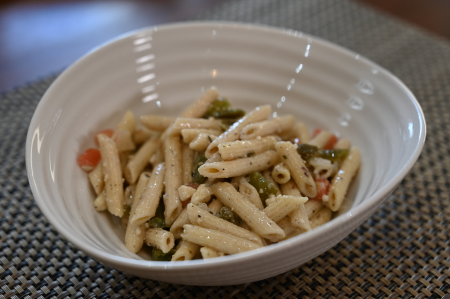 Both my husband and I enjoyed this and I sent some over to my parents and they really liked it too. Sadly, this isn't as good as the Kirkland Signature Mediterranean Pasta Salad but it's pretty close in tastiness. The ingredients are wheat pasta, canola oil, green pepper, tomatoes, onions, vinegar, sea salt, garlic, herbs and spices. The noodles aren't soft or mushy and are nice and firm, the feta is salty, creamy and delicious and the green peppers and tomatoes are crisp and fresh tasting. I will say that there's a ton of oil in this and the bowl I served this in had a pool of oil in the bottom. That's probably why the fat content is high, oil usually makes things extra delicious though. I do wish they used a higher quality oil like olive oil
Overall I enjoyed this, it was fresh and flavorful and is a perfect summer product for BBQ season. I would buy this again.
Cost: 8.5/10
Convenience: 10/10
Nutrition: 3/10
Taste: 8.5/10
What's your favorite summer side salad to buy from Costco?