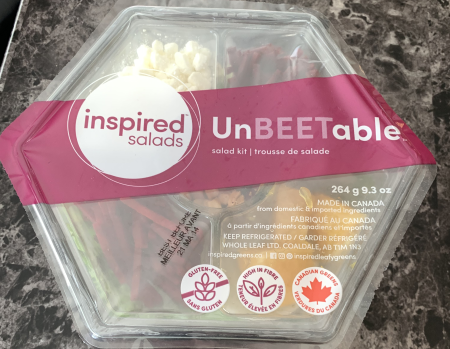 Unbeetable Salad
If you like my reviews for Costco food products the greatest thing you can do is follow me on  Instagram or Facebook and also tell your friends about my blog Costcuisine where I review tons of Costco food products each week! You can also check out my Youtube Channel where I do video reviews for Costco products! 
I love trying all the different salads Costco carries! The Inspired Salads seem to change with the seasons and I saw this new to me Unbeetable Salad last time I was at Costco and decided to pick it up for the weekend to have as a side dish.
Cost
I paid $7.99 for the salad which is definitely not cheap for one entree sized salad or one side salad! Costco has a delicious dill pickle salad that's less than half the cost.
Convenience
Everything you need for the salad is in one sealed plastic container that you can eat out of! Also if you have allergies or don't like one particular ingredient everything is pretty much seperated so you can leave out whatever you like or add less of it. This is great for lunch or dinner with some grilled chicken or salmon. There's enough salad for two decent sized side bowls of salad or four very small bowls of salad. The best before date is five days from the date I purchased the salad.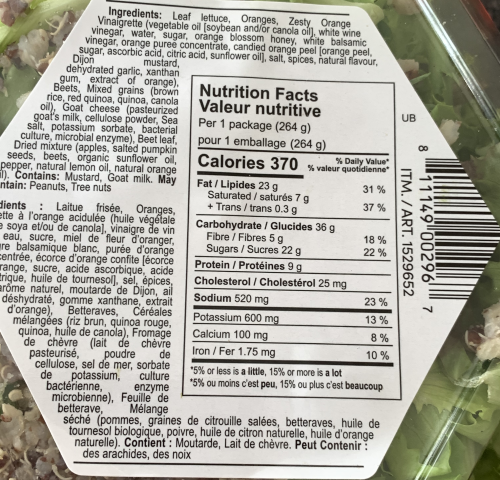 Nutrition
One package is 370 calories, 23 grams of fat, five grams of fibre, 36 grams of carbohydrates, 22 grams of sugar, nine grams of protein and 520 mg of sodium. Definitely not a low calorie or low fat salad but if you're having the whole salad for dinner or lunch it's not too many calories or fat! You can up the protein by adding a side of chicken, steak or salmon if you eat meat.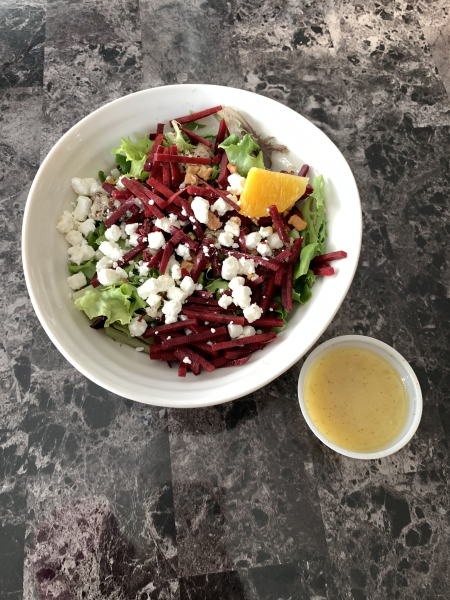 Taste
This salad is SO flavorful and delicious. Both my husband and I were obsessed with the goat cheese in it, it's so creamy and probably the best goat cheese we've tried. I think the reason why the salad is so flavorful because of how many ingredients are in it. This is one loaded salad! There's lettuce, oranges, fresh beets, mixed grains, goat cheese, dried apples, dried beets and pumpkin seeds. The salad comes with a seperate container of orange vinaigrette, way more than you need! The dressing isn't too sweet and really compliments all the other ingredients. I feel like this salad is a "treat" salad.
I wouldn't spoil myself with the Unbeetable salad all the time but I look forward to having it again, most likely when I plan to make a nice dinner at home!
Cost: 6/10
Convenience: 10/10
Nutrition: 5/10
Taste: 9/10
Leave a comment if you've tried this salad, what did you think of it?