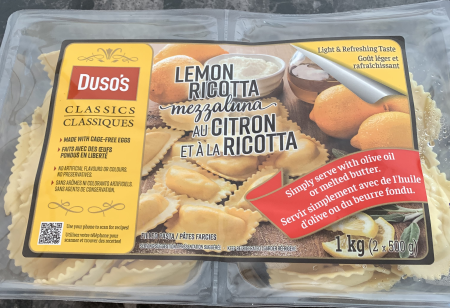 If you like my reviews for Costco food products the greatest thing you can do is follow me on Instagram or Facebook and also tell your friends about my blog Costcuisine where I review tons of Costco food products each week! You can also check out my Youtube Channel where I do video reviews for Costco products! 
I picked up some new pasta to try from Costco and wanted to review it here today, the Duso's Lemon Ricotta Mezzaluna! This can be found in the refrigerated section near the dips and other fresh pasta.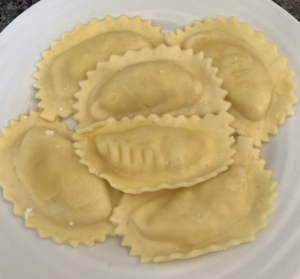 I paid $11.99 Canadian for the two 500 gram packages of mezzaluna. Not bad considering one package was way more than enough for my husband and I and he has a really big appetite! There was lots leftovers.
The mezzaluna has a best before date of about a month from the date I purchased it.The packaging states you should consume the mezzaluna within three days of opening the package. It's really convenient to make, all you do is boil some water, throw your pasta in for about 6-8 minutes and then serve it with olive oil or melted butter. I served ours with melted butter and some fresh basil. This would make an amazing cold pasta salad as well with fresh tomatoes, asparagus and maybe some rosemary.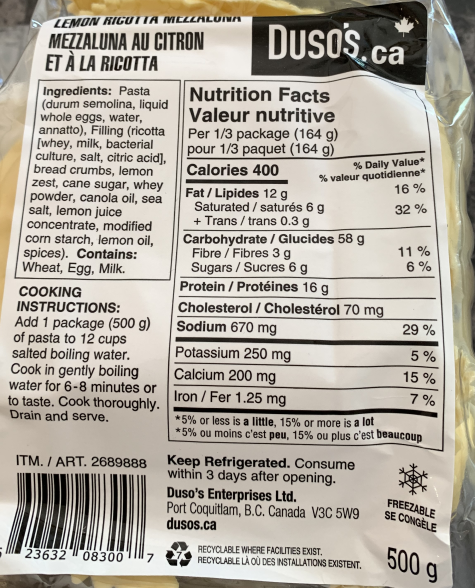 1/3 of the package is 400 calories, 12 grams of fat, 670 mg of sodium, 16 grams of protein, 58 grams of carbohydrates, three grams of fibre and six grams of sugar. The mezzaluna contains wheat, milk and eggs.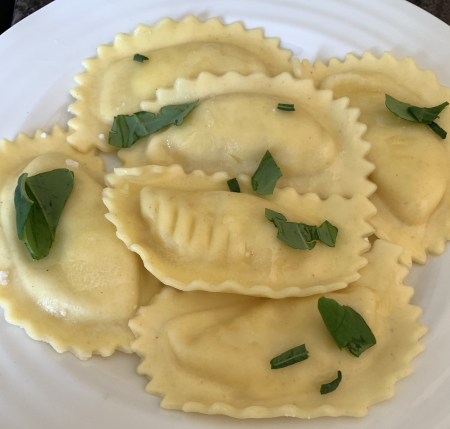 I've previously reviewed the Duso's Jumbo Chicken & Mozzarella Ravioli which I did not enjoy at all but I really like this lemon ricotta mezzaluna! The filling is very lemony which I like because I love lemon anything and the lemon pairs really well with the ricotta. If you don't think lemon flavoured pasta is your thing, you might want to skip this one. Because the filling is so flavorful you really don't need any additional heavy sauces. Just a bit of melted butter or olive oil is great. The pasta itself was al-dente and really tasty. This is good both hot and cold (I ate cold pieces out of the fridge the next day). I found this quite filling despite not adding any extra meat or sauce!
Cost: 7.5/10
Convenience: 9/10
Nutrition: 4/10
Taste: 8/10
What's your favorite fresh pasta to buy from Costco?