If you like my reviews for Costco food products the greatest thing you can do is follow me on Instagram or Facebook and also tell your friends about my blog Costcuisine where I review tons of Costco food products each week! You can also check out my Youtube Channel where I do video reviews!
Today I'm reviewing the Bread Garden Peanut Butter & Raspberry Cookies. These can be found in the bakery section at Costco.
The 648 gram container has 12 packs of cookies with two cookies in each pack. I paid $8.99 Canadian for the box.
The best before date listed is about three weeks from the date I purchased the cookies. The cookies come sealed in packs of two so you can conveniently pack them in a lunch, pop them in your purse or share them with your friends, family or coworkers.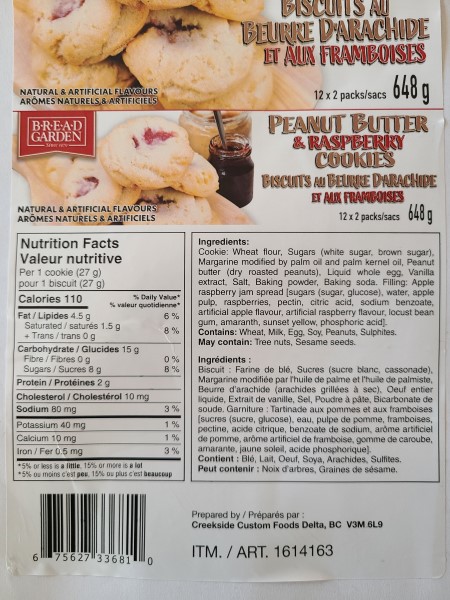 One cookie is 110 calories, four and a half grams of fat, 15 grams of carbohydrates, eight grams of sugar, zero grams of fibre, two grams of protein and 80 mg of sodium. The ingredients list is pretty straight-forward, I'm surprised to see that the filling is apple raspberry jam spread because I didn't taste any apple.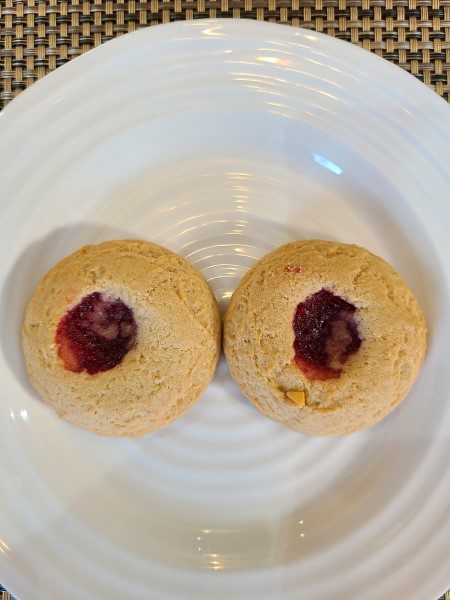 The cookies are light and fairly soft but not very moist. The cookie dough is a sweet and fairly mild flavored peanut butter cookie. The dough doesn't have a ton of flavor but definitely has a noticeable but muted peanut butter flavor. The jam filling is quite sweet but not the tastiest raspberry jam, kind of artificial tasting. The jam goes fairly well with cookie dough. There are a few small chunks of peanuts in the cookies, not a lot. I like the idea of a peanut butter and jam cookie, these aren't bad but are probably the best bread garden product I've had.
Cost: 7/10
Convenience: 10/10
Nutrition: 0/10
Taste: 7/10