If you like my reviews for Costco food products the greatest thing you can do is follow me on Instagram or Facebook and also tell your friends about my blog Costcuisine where I review tons of Costco food products each week! You can also check out my Youtube Channel where I do video reviews!
I'm reviewing these new Schwartz Brothers Organic Everything Bagel Chips. I found these or our recent trip to Costco and hadn't seen them before so wanted to try them!
For the 425 gram bin of bagel chips I paid $9.99 Canadian which is definitely on the more expensive side!
These are great alone or can be paired with cheese, dips or even to crumble them up to top a salad with! The best before date is about three months from the date I purchased them. The plastic bin is resealable which is nice because it helps keep the bagel chips fresh.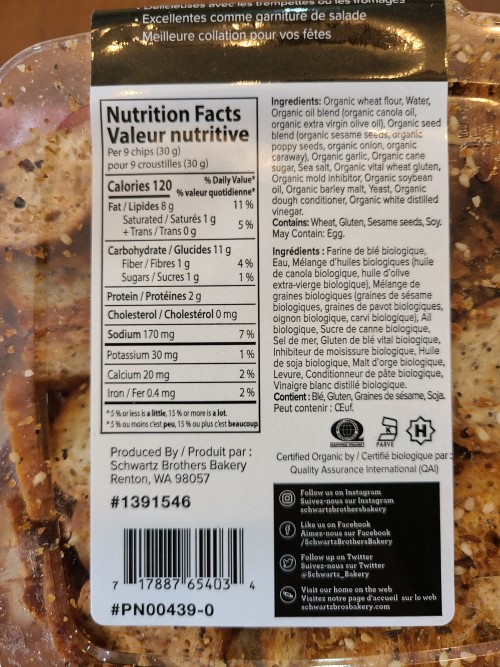 Nine chips is 120 calories, eight grams of fat, 11 grams of carbohydrates, one gram of fibre, one gram of sugar, two grams of protein and 170 mg of sodium The chips are plant based as well as organic. They contain what, gluten, sesame seeds and soy.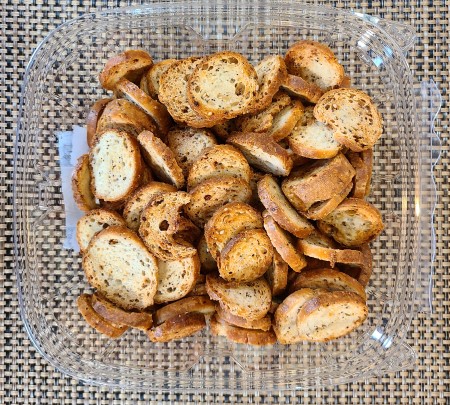 I love the flavor of these, there's a mix of garlic, salt and other seasonings that all blend so well with one another. These are also quite crunchy but not too hard! The oil doesn't leave the chips greasy but adds extra flavor. Without any dip or cheese I find these quite addictive and tasty! I believe they'd be even better with a dip like the Costco Good Foods Caramelized Onion & Gruyere Cheese Dip. 
Cost: 6/10
Convenience: 10/10
Nutrition: 4/10
Taste: 8/10