If you like my reviews for Costco food products, the best thing that you can dfollow me on Instagram or Facebook and tell your friends about my blog Costcuisine, where I review new Costco food products each week! You can also check out my YouTube channel, where I do video reviews!
Today I'm reviewing Hilo Nacho Chips! These are made with almond flour, keto friendly and high in protein.
One 340 gram bag costs $10.99 Canadian at Costco which is pretty expensive for a bag of nacho chips! I have seen them on sale in the past though for as little as $7.49 Canadian.
The bag of chips is not resealable but that's not a huge deal because the bag isn't that big so it won't last forever. These are great alone or could also pair well with a seven layer dip, sour cream or salsa! They're perfect for a party or movie snack. I like that they're a product of Canada because I love supporting Canadian business!
25 chips contains 260 calories, 19 grams of fat, eight grams of carbohydrates, three grams of fibre, three grams of sugar, 17 grams of protein and 390 milligrams of sodium. The fat content and protein content are both quite high making these keto friendly. Protein helps to keep you full and satisfied so hopefully that means you eat less chips! I don't love that the first ingredient is vegetable oil but I do appreciate the additional protein from the chia seeds and pea protein. Just because they're high in protein, gluten-free and keto friendly doesn't make these healthy.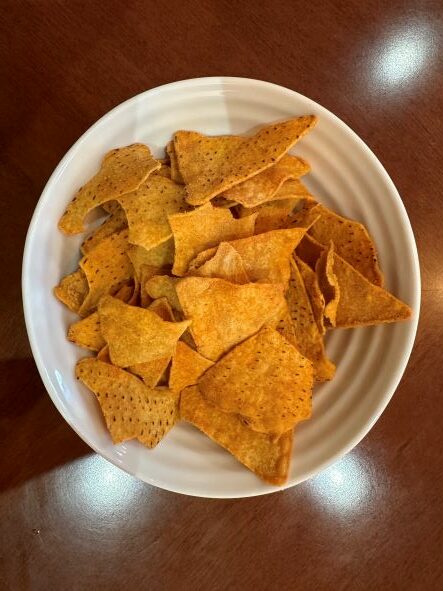 The taste is very similar to a Dorito so if you want a high protein Dorito, look no further. There isn't much heat or spice at all, the main flavor is cheese! These are definitely a cheesy nacho chip. They have a slight powdery after taste but otherwise taste very much like any other tortilla chips I've had. They have a nice crunchy texture and are decently thick so they don't fall apart when dipping into salsa or sour cream. Both myself and my parents found the Hilo chips pretty addictive and tasty.
Cost: 7/10
Convenience: 10/10
Nutrition: 3/10
Taste: 8.5/10