I also posted a Youtube Video showing my Christmas 2022 Costco Haul!
If you like my reviews for Costco food products, the best thing that you can dfollow me on Instagram or Facebook and tell your friends about my blog Costcuisine, where I review new Costco food products each week! You can also check out my YouTube channel, where I do video reviews!
Today I'm reviewing the Swiss Delice Prestige Chocolates that are available for Christmas from Costco! I've been looking for a decent box of chocolates to treat myself this holiday season and decided to give these ones a try.
The box contains 51 chocolates and costs $11.99 Canadian at Costco which is actually really reasonable for these chocolates from Switzerland.
The box comes wrapped in plastic. The best-before date listed on the chocolates is eight months from the date I purchased them and they should be stored in a cool and dry place.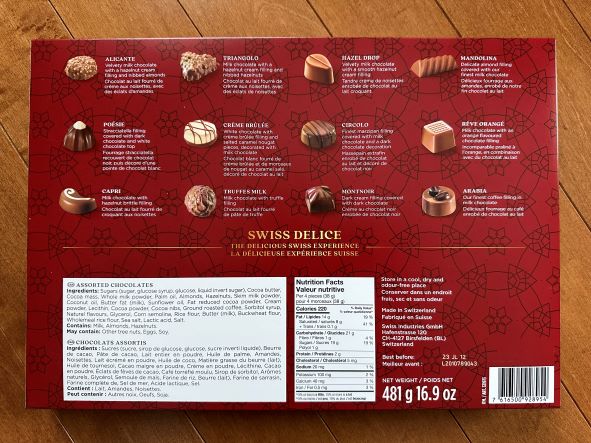 Four chocolates contain 220 calories, 14 grams of fat, 21 grams of carbohydrates, one gram of fibre, 19 grams of sugar, two grams of protein and 20 milligrams of sodium. The first ingredient listed is sugar which isn't surprising. These aren't healthy and have zero nutritional benefits but they are quite tasty!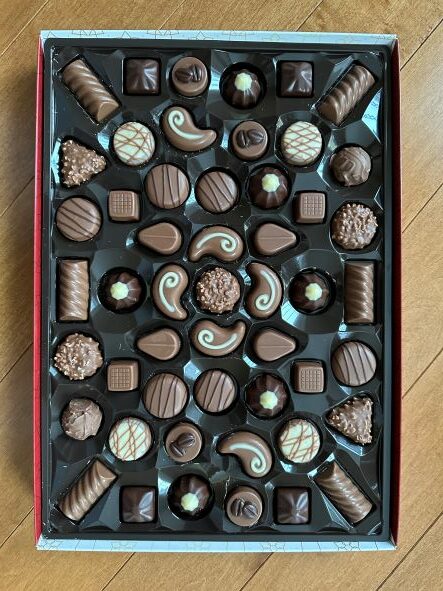 I actually tried all 12 flavours of chocolates in the box and I'm pleasantly surprised by how much I like these chocolates. I assumed they would taste pretty low quality and not be great. The Capri chocolate with toasted hazelnut and a bit of crunchiness was delicious. I also loved the Arabia with an enjoyable strong coffee flavor. The only chocolate I didn't love in the box was the Circolo because I found it too sweet but I found the rest pretty tasty. I wouldn't mind receiving a box of these and actually wouldn't feel bad about gifting a box to someone else!
Cost: 9/10
Convenience: 10/10
Nutrition: 0/10
Taste: 8/10