If you like my reviews for Costco food products, the best thing that you can dfollow me on Instagram or Facebook and tell your friends about my blog Costcuisine, where I review new Costco food products each week! You can also check out my YouTube channel, where I do video reviews!
It's that time of year when it's nice to cozy up on the couch with a hot beverage so today I'm reviewing the Tim Hortons Variety Pack that includes 15 french vanilla cappuccino packets as well as 15 hot chocolate packets.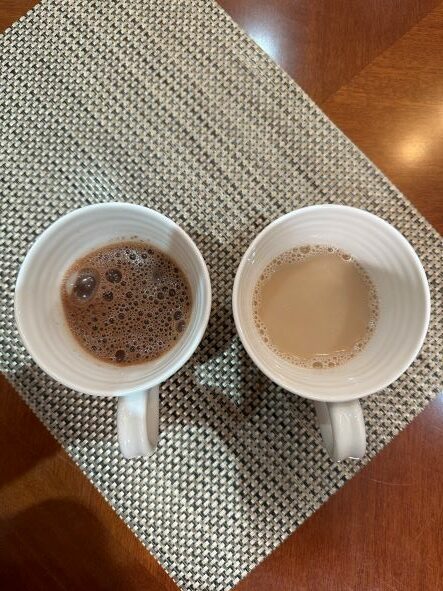 I paid $10.99 Canadian which isn't super cheap but it's not as expensive as visiting a Tim Hortons and buying a hot chocolate or french vanilla.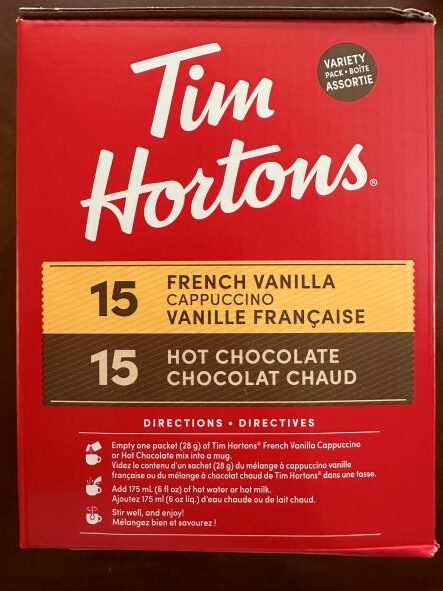 The packets are really easy to prepare, you just add 175 milliliters of hot water or hot milk, stir and enjoy! The best-before date is a year and a few months from the date I purchased them. You can pop a packet or two in your bag to bring skiing or make some prior to tobogganing.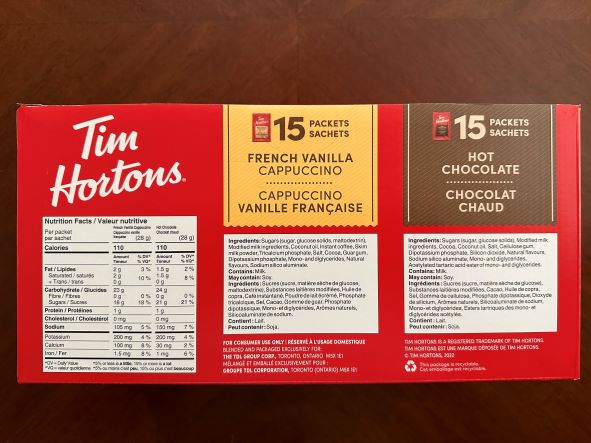 The first ingredient for both is sugar which is not a surprise. They both contain milk and may contain soy. The ingredients list for both packets contains lots of unhealthy ingredients also isn't a shock.
The french vanilla cappuccino packet contains 110 calories, two grams of fat, 23 grams of carbohydrates, zero grams of fibre, 18 grams of sugar, one gram of protein and 105 milligrams of sodium. The hot chocolate packet contains 110 calories, one and a half grams of fat, 24 grams of carbohydrates, zero grams of fibre, 21 grams of sugar and 150 milligrams of sodium.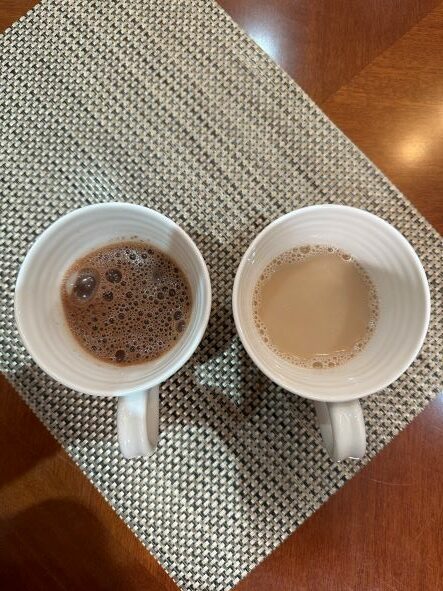 The hot chocolate smells pretty nice; tastes pretty much like any other powdered hot chocolate I've had (like carnation). I compared trying it with water versus milk and it's much tastier with milk. French vanilla cappuccino sort of smells like coffee; tastes very sweet without much coffee or vanilla flavor. Honestly, french vanilla tastes just like pure sugar to me. When I first started nursing though I worked in a hospital with a Tim Hortons and would always get 1/2 coffee and 1/2 french vanilla and found this was the perfect sweetness!
Cost: 7.5/10
Convenience: 10/10
Nutrition: 0/10
Taste: 4/10 for the french vanilla. 6/10 for the hot chocolate. I really love buying high-quality shaved chocolate and making hot chocolate from that!