If you like my reviews for Costco food products, the best thing that you can follow me on Instagram or Facebook and tell your friends about my blog Costcuisine, where I review new Costco food products each week! You can also check out my YouTube channel, where I do video reviews!
I was craving chicken fingers and fries during my last Costco trip but didn't have time to stop for any from the food court so I picked up the Janes Whole Wheat Chicken Strips!
I paid $14.99 Canadian for the two kilogram box which is much cheaper than getting chicken strips from a fast food restaurant.
There are instructions for heating the chicken strips in the oven or microwave. The packaging says for best results, use the oven. I think you can also use your air fryer to heat this despite instructions not being on the packaging. The best before date is 10 months from when we purchased the strips and they need to be kept frozen. I like my chicken strips with plum sauce but my husband prefers his with barbecue sauce. A lot of people like ranch or honey mustard sauce as well. If you're feeling fancy you could use these in a salad or to make chicken wraps.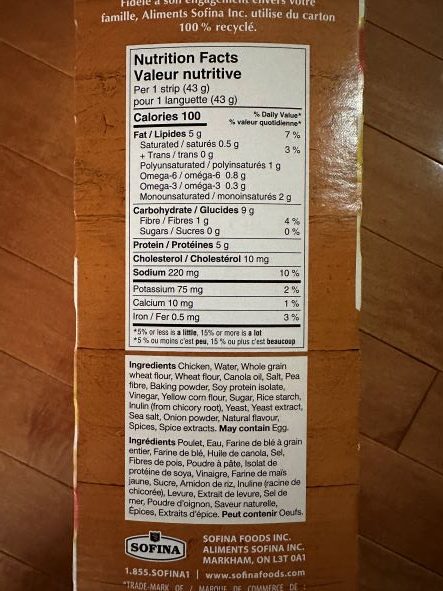 One strip contains 100 calories, five grams of fat, nine grams of carbohydrates, one gram of fibre, zero grams of sugar, five grams of protein and 220 milligrams of sodium. That's way less protein that I expected for one strip! I probably eat three of these in one sitting and am a bit disappointed that would only be 15 grams of protein but 680 grams of sodium. The box states the strips contain 10% whole grain flour so it isn't 100%. Some ingredients I don't love seeing are soy protein, inulin and canola oil. Inulin can cause stomach discomfort for some.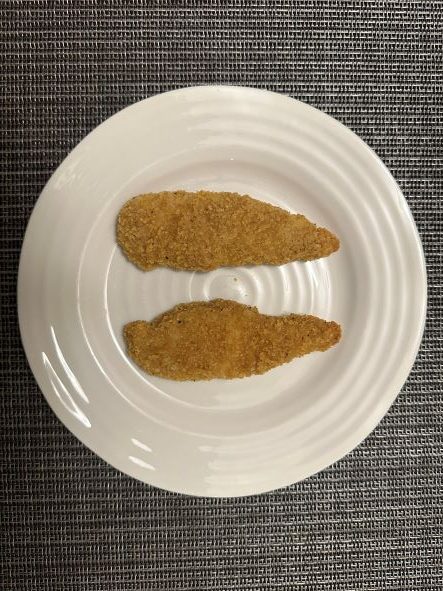 I thought the chicken strips were actually pretty tasty. We followed the cooking instructions for the oven method and they didn't really get as crispy as we hoped and were actually still a bit soft. The overall flavor was good, seasoned well but definitely on the salty side. We also noticed the chicken seemed to be pretty good quality, neither my husband or I found any fatty bits or gristle. Although they're "whole wheat", they don't taste any different than just regular chicken strips I've had.
Cost: 8/10
Convenience: 9.5/10
Nutrition: 3/10
Taste: 8.5/10