West Costco Sales Items for February 29 – March 6 for BC, Alberta, Manitoba, Saskatchewan
East Costco Sales Items for February 29 – March 6 for Ontario, Quebec and the Maritime Provinces
Please "Like" the Costco East – Secret Sales Items Facebook Page to have the newest deals delivered directly to your News Feed!
So everyone!  Cora Breakfast and Lunch on Robson Opened up this morning!  Thanks everyone for the good wishes.  I'm going to wait until tomorrow to announce the winners of the contest so that everyone has a chance to enter.
CONTEST (Extended Deadline!!!) –  Comment on my Facebook Page with your favorite Cora Menu Item (or what you plan on ordering next time!)
I will be giving away four (4) $25 gift certificates to be used at Cora Breakfast and Lunch – Robson Street Location.  The winners will be announced on March 1!!!  Good Luck Everyone!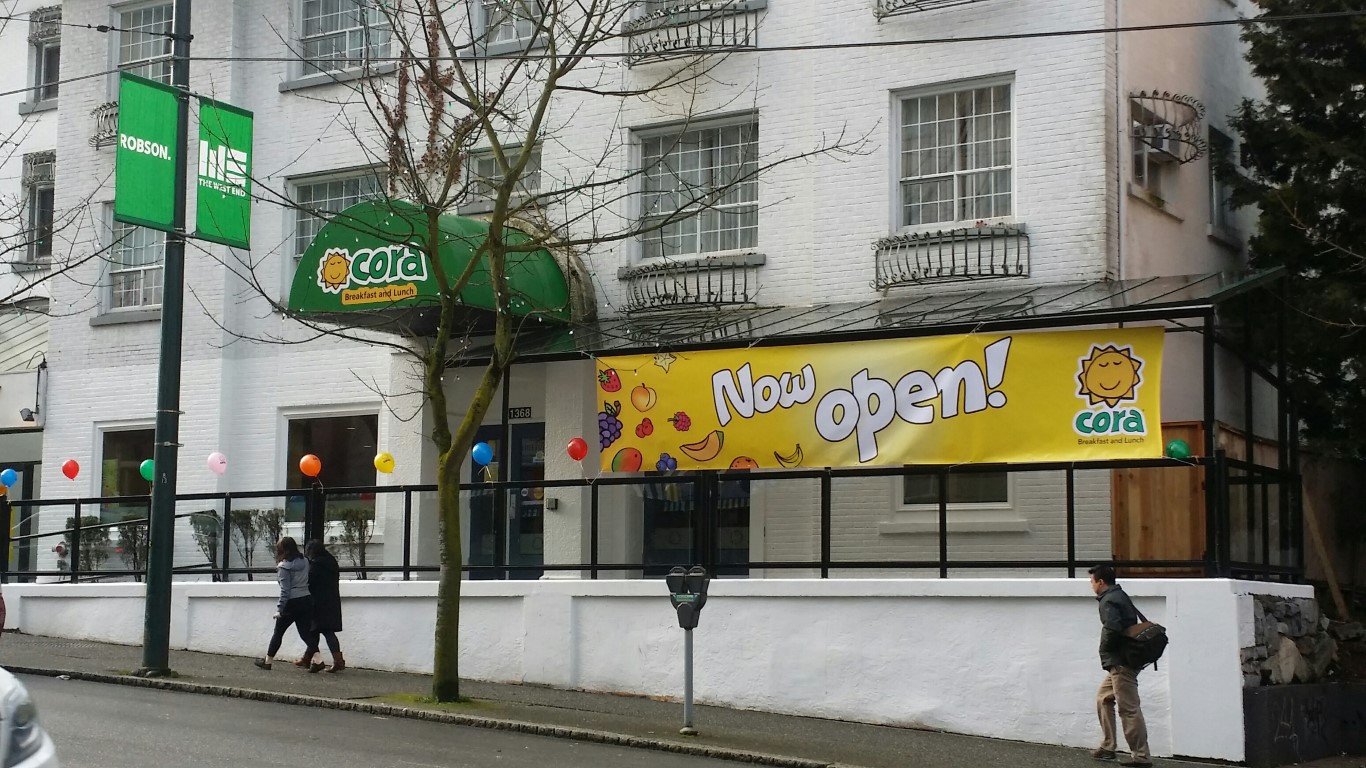 There are some great bargains at Costco again this week.  GFR Leanfit Protein Powder and Vega Protein Powder are both on sale!  Also, it looks like there is quite a few baby items on sale such as Kirkland Baby Wipes, Huggies Pull-Ups Diapers, and Kirkland Signature Infant Formula (regular and lactose-sensitive)
Fila Running Shoes are $19.99.  It is regular price, but I mention it because there were so many people looking at the shoes.
The things that I have purchased that I like are the: Turkey Pepperoni, Resinite Plastic Wrap, Charmin, Kleenex, Ling Ling Potstickers, Angus Beef Burgers, Campbell's No Salt Added Chicken Broth, Newman's Own Pasta Sauce, Kirkland Signature Moist Flushable Wipes, Golden Island Korean BBQ Pork Jerky, and Dad's Cookies
EDIT:  I just found one more thing that I will be spending money on!  Ever since my wife received her Dutailier Glider, it has been the grandparents favorite place to sit!  It is time to upgrade from the wicker couches and get a pair of them for the cabin!  It helps that the glider is $100 off until March 13. $499.99 – $100 = $399.99. This is the cheapest price you can find for this Canadian-made chair that includes an Ottoman, a recline and a gliding function. They are also very comfortable.
Happy Shopping!
Use these posts to make the best use of your Costco Card! I have done all the hard work for you and have a weekly listings of all the Costco Sales Items and flyers. Costco does not publish these Costco sales items; the only way to find out what is on sale is to walk the whole store! Come back every Monday to find out what is on sale for the week. The sales may vary slightly by store, but are generally pretty consistent between Western Canada. If there is something you really want, please make sure to double check the expiry date as some of the Costco sales items have been known to end mid-week.
If this blog has helped you save money or has provided you with some entertainment, consider sharing cocowest.ca with your friends and family! Alternatively, you can join the Costco West Facebook group to get updated whenever there is a new post! https://www.facebook.com/costcowestcoupons/. Follow me on Twitter at: @CostcoWest!
There is a new option to subscribe to website updates via Email at the top right of every page. Sign up if you don't want to miss a post!