Get $25 OFF a purchase of $100 or more on Costco.ca when you pay with Masterpass
Hi Everyone!
I hope everybody is ready to celebrate fall with friends and family!  We are having our big dinner tomorrow to accommodate everyone's hectic schedule.
I just wanted to let everybody know about a great Costco Promotion on their Costco.ca site.  Costco.ca has partnered with Masterpass and is offering $25 off your first purchase over $100 when you pay with Masterpass.  Masterpass is run by Mastercard and looks to be like an online wallet, where you can add all of your credit cards (VISA, Mastercard, JCB, Discover, AMEX) and choose to pay with any one when you checkout.  In my case, I added my VISA card to pay.  Remember the price of shipping is included in all of its online items (including large furniture items)!
The official details on the promotion can be found here:  https://www.costco.ca/masterpass.html
One great deal would be to purchase Nellie's Bulk Laundry Soda.  It will be going on sale between October 16 and October 29 according to the Costco Connection Magazine.  This laundry detergent is not available in stores, and has received great reviews from my friends.  The large 16.5kg bucket (which should go on sale for $20 off) will last up to to 1,100 loads, Scent Free, Super concentrated, Hypo-allergenic, HE certified, Front loader compatible.  My friends with babies have been using it on their cloth diapers with no problems. 🙂  Since the laundry soap is under the $100 threshold, you will need to purchase a filler item to get the total above $100.  The cheapest item I could find was: Prismacolor Verithin Coloured Art Pencils but you could also get something more useful like Duracell C and D Batteries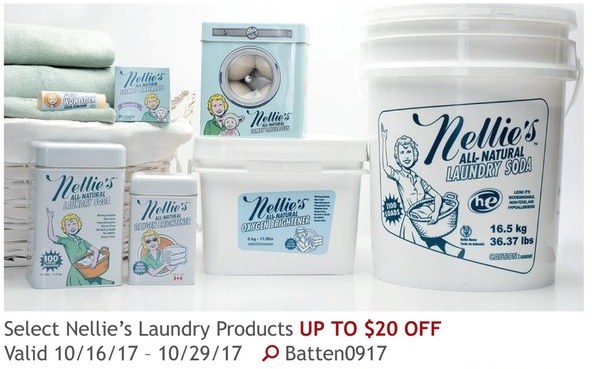 Another option is to purchase this 25kg barrel of BERNARD Canada Grade A Dark, Robust Taste Maple Syrup for $239.99 (plus $25 off)
Just to test, I tried to order the new Apple TV 4K  ($219.99 vs $229.99 on Apple.ca) and it displayed the $25 discount upon checkout.