Hi Everyone!
I made it down to the US to take some pictures this week.  There were so many items that I took pictures of this week – 260 pictures in all.   The one impulse purchase that I made was the Cranberry Walnut Round.  They were hot out of the oven when they came out and everyone seemed to know about them.  As I was checking out, the two people at checkout said as soon as I tried the bread, I would regret not purchasing 2 loaves.  I had the bread this evening and they weren't wrong.  The bread is deliciously soft and the cranberries added some great flavour.
I really wanted to get the Beer Advent Calendar they had there with 24 German Beers, but I did not want to have to pay duties.  Anyone know of a similar product you can purchase here in BC?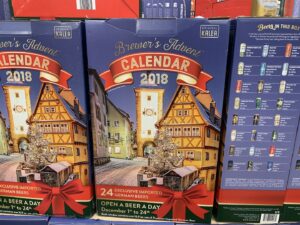 They also sold a 7.5 ft, 9 ft and 12ft pre-lit Christmas Tree.  I know some people were looking for the 9ft Christmas tree so maybe the only way to get that one is to head down to the US.  I'm definitely, going to need a bigger house to fit a 12 ft Christmas tree!
That is it for tonight. Enjoy the pictures.  Thanks for spotting me in the store and saying "hi" Anthony!
Happy Shopping!


cocowest.ca has officially added an Instagram page:
Instagram:  For those of you on Instagram:  @Costco_West_Fan Blog
The Instagram Page can be found here: https://www.instagram.com/costco_west_fan_blog/