Please note that this review was not paid for or sponsored by any third party. I purchased this product with my own money and the opinions in this review are strictly my own. I am not affiliated with Costco or any of its suppliers. I am just a fan of the company. I write these reviews to help my fellow shoppers.
This is my husband's absolute favorite pre-made item from Costco. We purchased it regularly a couple of years ago, but then it was discontinued. We were both pretty sad about that. Since then, I constantly checked my local Costco hoping that it would magically return. Just when I had pretty much lost hope, there it was sitting in the pre-made section again!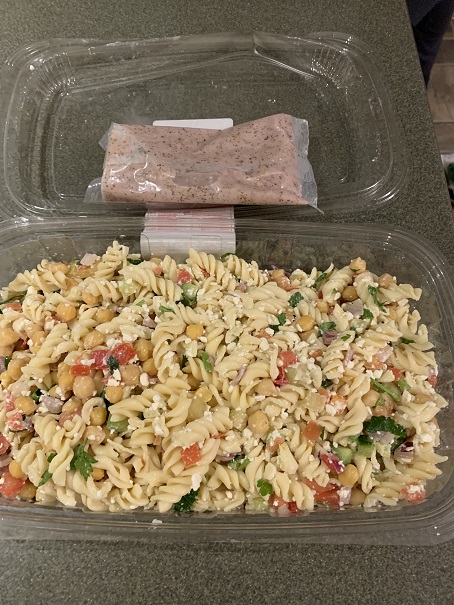 The Kirkland Signature Mediterranean Pasta Salad is simple, yet delicious. Basically it's a mix of cooked pasta, chickpeas, tomatoes, feta cheese, cucumber, onion, celery, and a bit of parsley. The pasta itself doesn't have a lot of additional spices or flavoring. The flavor comes mainly from the feta and the dressing. I was a little bit surprised to see celery listed with the ingredients, because I never saw it or tasted it any of the many times we had this salad in the past. The vegetables are cut nice and small though, so I can see how I missed it. This salad doesn't fit the typical definition of one – it's pretty light on vegetables. As I mentioned before, when it comes to the flavor, the dressing is the star – and it comes with a separate huge packet of creamy balsamic/Greek vinaigrette. This is by far my favorite Greek vinaigrette dressing. It's creamy, tangy, and slightly vinegary, with a tasty combination of spices. When Costco stopped carrying this salad and I thought about making my own, this was the main thing I missed – I couldn't find a dressing quite like this anywhere else. I love that the dressing comes in a separate packet because then I can control how much dressing I add to my portion of the salad (and it keeps the other ingredients in the salad from getting soggy). I prefer to go easy on the dressing, because I don't find I need a lot to get the great flavor. I also like that every time I get the Kirkland Signature Mediterranean Pasta Salad from Costco, the pasta is cooked al dente and isn't at all mushy or overcooked. Personally, I like to add my own chopped vegetables and chicken to the salad to make it a bit healthier and more filling. In fact, I don't know if I've ever just eaten it as it comes. I find there is enough of the tastier, less healthy ingredients in the salad along with plenty of dressing, so this ends up making a delicious yet tasty meal. Otherwise, I think this salad would probably fall more into side dish territory.
One of the main reasons I purchase the Costco Kirkland Signature pre-made items is convenience, and the Mediterranean Pasta Salad is no exception. By adding my own chopped veggies and some chicken, it turns into an easy, healthy dinner. I love how the best before date is usually three days after purchasing. This gives me flexibility with my meal planning as I try to limit my shopping trips to once a week. As I said in the last paragraph, even though we usually add ingredients to turn this salad into a full meal, it's an awesome item to bring to a potluck or barbecue as a complementary dish. When served that way, all you need to do is open the container, throw in a serving spoon and open up the dressing packet.
In my opinion, $7.99 Canadian is super reasonable for the Costco Kirkland Signature Mediterranean Pasta Salad. I actually know that it was $7.99 a couple of years ago when I was purchasing it (yes, we bought it that often), so it's nice to see the price hasn't increased. I know that generally pasta and veggies are cheap, but if you bought the pasta, the dressing, the different veggies, and the feta separately, I don't think you'd come out too far ahead. Plus as I learned personally, you can't get dressing quite like this anywhere else! At least not that I've ever come across.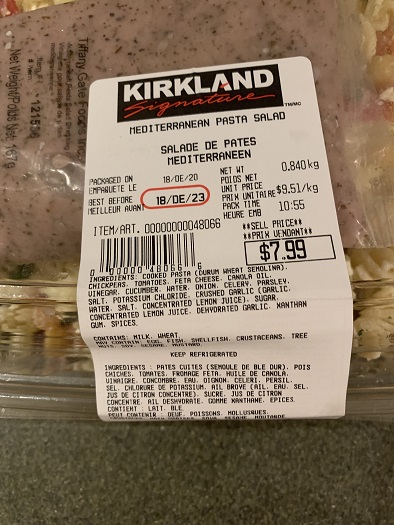 As this is a Costco pre-made item, the package doesn't provide detailed nutritional information. Based on the ingredients and my very thorough taste tests, this isn't the healthiest dish (especially if you judge it against traditional salads), but it also isn't the least healthy either (especially if you judge it against some of the other pre-made items at Costco). Carbs aren't evil when consumed in moderation (like anything else), and there's a decent amount of protein in the chickpeas. If you add your own veggies and maybe some extra protein (chicken or even extra chickpeas), then you have a pretty nutritious and satisfying meal.
I'll be buying the Kirkland Signature Mediterranean Pasta Salad many, many more times while I can and will probably cry the day I approach a Costco staff member and find out they've discontinued it again. It's gone away and come back a couple of times that I've noticed now, so I totally recommend that you try it out while you can! If you'd like to make it bigger and/or healthier, try adding your own veggies and some extra protein.
Taste: 9.5/10
Cost: 9/10
Nutrition: 5/10 as it comes, 8/10 with lots of added vegetables and healthy protein
Convenience: 10/10
What would you add to this Mediterranean Pasta Salad to make it extra good!? Do you have a favorite Costco Kirkland Signature pre-made item that was discontinued? I really liked the bean salad they had a few years ago! We still miss that one!