RECALL ALERT: Heinz Turkey Stew baby food & Whalen Counter Height Dining Set for Insects
Hi Everyone,
Unfortunately, I have a couple of recalls to announce today.  I was going to this Costco recall tomorrow, just because it was so weird!  Both of these recalls involve insects which just gives me the creepy crawlies.  One recall was for insects in food and one was for insects in wood!
Heinz brand Turkey Stew baby food recalled due to presence of insects (Not Sold at Costco, but gross)
Kraft Heinz Canada is recalling Heinz brand Turkey Stew 8+ Months baby food from the marketplace due to the presence of insects. Consumers should not consume the recalled product described below.
I'm pretty sure both my kids have tried these products, when we were trying all sorts of mush to get them used to different types of food.
The agency says the baby food was sold in British Columbia, Saskatchewan, Ontario, Quebec and Newfoundland and Labrador.
There have been no reported illnesses.
The agency says the product should not be consumed and it should be thrown out or returned to the store where it was purchased.
For more information see the CFIA Notice Here:  https://www.inspection.gc.ca/about-the-cfia/newsroom/food-recall-warnings/complete-listing/2019-08-16/eng/1566012117302/1566012119453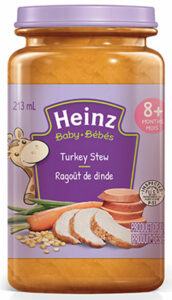 Whalen Counter Height Dining Set
We have recently discovered there is a possibility that the dining set may have been contaminated with a wood boring insect. This would result in small, pin-sized holes appearing in the table or chairs. To date, there have been no reported cases in Canada of insect‐related product damage.
The Whalen 7-piece Counter Height Dining Set (Model CSC7PCHD‐1N) that includes a table and six chairs, sold between June 2019 and August 2019 at select Costco warehouse or online on Costco.ca.
Delivering the highest quality product to our customers is of utmost importance to us. If you have this dining set in your possession, please stop using it immediately. You may return the dining set to a Costco warehouse to obtain a full refund.
For more information see the Costco Notice Here:  https://customerservice.costco.ca/app/answers/detail/a_id/9014