Garnier SkinActive Micellar Water Review & Contest!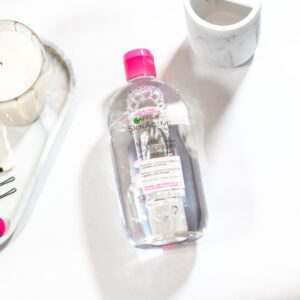 Hi Everyone!
The Costco East & West Fan Blogs have partnered with Garnier to help them promote Garnier SkinActive Micellar Water!
This is a paid promotion and all opinions are my own. With that being said, I would never promote a product that I didn't try and believe in.  Since this is a paid review, a portion of all the proceeds from this post are being donated to the Canadian Red Cross.
On that note a big thanks to everyone who takes the time to read this.  Garnier has generously offered to give away some samples of this great product so we will be running a contest and giving away (10) two-packs of Garnier SkinActive Micellar Water!  Read all the way to the bottom to find out how to enter.
For those of you who don't know, I'm male and putting on make-up has never really been my thing.  So I've recruited my colleague Natalie from Costcuisine.com to review this product for us.  I've also added my comments onto the end.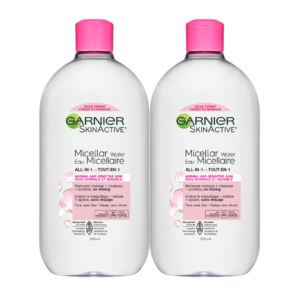 Garnier SkinActive Micellar Water
This is Natalie from Costcuisine reviewing the Garnier SkinActive Micellar Water All-In-1 facial cleanser and makeup remover!
Garnier SkinActive Micellar Water is an all-in-one cleanser that removes eye makeup, face makeup, lipstick dirt and oil. I'm big into skin care, but I'll be honest, I've never tried Micellar Water before. I was a bit skeptical about how this product would manage to take off my face and eye makeup easily (which means without the usual process of scrubbing and/or submerging my face in a sink full of water that I usually go through each night!). I also have extremely sensitive eyes, which makes me a little wary of trying new products. After doing some research on Micellar technology, I discovered that Micellar water contains "micelles" that work like tiny magnets to lift and remove dirt, oil or makeup. That was enough to convince me to give it a try!
Removing makeup is important to me, and I'm always concerned about making sure I get every last little bit off. After using the Garnier SkinActive Micellar Water, I can definitely say I'll be using it again. I was shocked at how easily my eye makeup wiped off with a few gentle sweeps – it usually takes a few minutes of rubbing and multiple cotton pads for me to get the same result. The Garnier SkinActive Micellar Water also removed my waterproof mascara, which is a major positive! My face makeup came off just as easily, and my skin felt refreshed and soft afterward. Even without rinsing my skin, there wasn't any residue left behind.
The Garnier SkinActive Micellar Water is oil-free, alcohol-free and fragrance-free. The packaging is simple and practical. All you have to do to use it is pour a little bit on a cotton pad and wipe. I would definitely use this product for travelling – it would be perfect for use after those days on the beach when your face is coated in sunscreen. It's also great for those long nights out when you just want to quickly wipe off your makeup and go to bed and for freshening up your face after exercise or any activity that makes you sweat.
I've happily added the Garnier SkinActive Micellar Water All-in-1 facial cleaner to my skincare arsenal and will definitely be looking forward to using it in the future!
Garnier SkinActive Micellar Water is a seasonal item and will only be in stores temporarily, so make sure some up the next time you go shopping!  Garnier SkinActive Micellar Water (700ml)  sells at Costco for $11.49.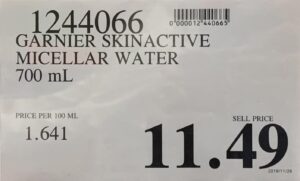 My Review of Garnier SkinActive Micellar Water
Micellar Water is alcohol-free and it has been used since 1913 in France when running water was not really a thing.  You use it by applying a small amount to a cotton pad and dabbing or brushing your makeup off.  It is a cleaner, makeup remover and moisturizer all in one.
The first thing that I noticed when I tried this product was that there was no smell and had the look and feel of water – hence the name.  When I applied it to my skin, it did not feel slick or soapy and did not leave my face feeling dry (something that I feel will be appreciated in the cold Canadian winter.)
In fact, I got great reviews from all the people I know who sampled this product.  The consensus was that it took off makeup without making your face feel dry.  Using soaps and alcohol-based cleaners are not great for people with sensitive skin.  I also feel that this would be a great product if you are camping (bring a travel sized bottle) or in a place without running water.
There you have it – Give it a shot if you are looking to try something new and good luck on the contest everyone!
CONTEST #1 INFORMATION!!!