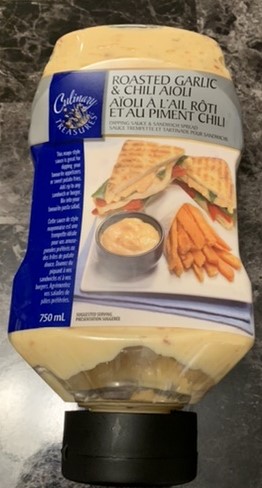 Definitely has a bit of heat!
So I've always been slightly curious about the Costco Culinary Treasures Roasted Garlic & Chili Aioli. I'm a huge sweet potato fry fan and I love the dipping sauce you get at restaurants. At home sweet potato fries just aren't the same with ketchup so I was excited to try this out!
Cost
The aioli comes in a two-pack and each bottle is 750 ml. I paid $7.99 Canadian for the two-pack. Not overly expensive at all for such a large quantity of aioli that I'll probably never use up!
Convenience
So when I bought this initially I was pretty close minded and thought it would only work for sweet potato fries. However after trying it I've decided there's quite a few ways you could use this aioli. On sandwiches, burgers, for dipping fries or chicken wings or even as a veggie dip! I bet there's a ton more ways you can use it that I'm not even thinking about. The best before date is about six months from the date I purchased the aioli. Once opening you need to refrigerate the aioli.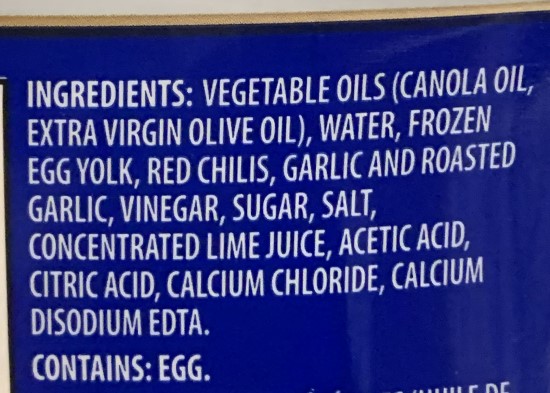 Nutrition
One tablespoon is 100 calories, 11 grams of fat, 85 mg of sodium, 0 grams of fibre, sugar and protein and one gram of carbohydrates. The ingredients list is pretty much what I would expect to see  until I got to the end of the ingredients list. I'm not quite sure what calcium disodium edta is?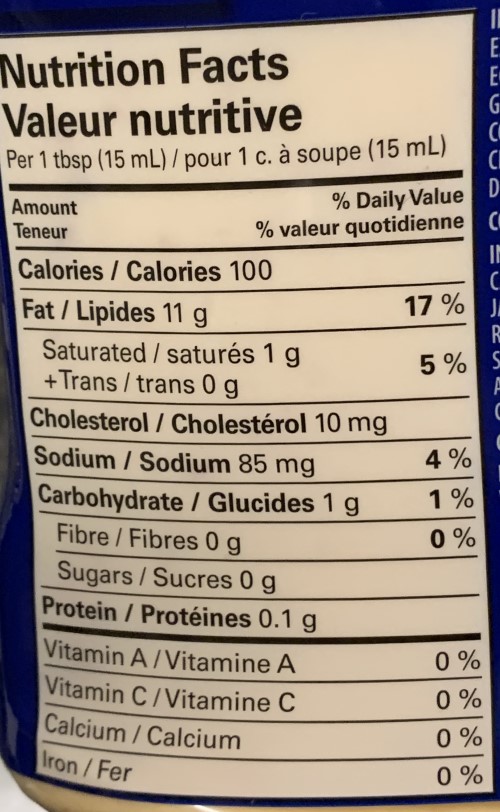 Taste
Honest review. My husband and I are divided on the taste. I was NOT expecting it to be so spicy/hot! For some reason I decided to forget about the "chili" part and found the heat a little too much and overpowering. My husband on the other hand loves the heat and thinks this aioli is delicious. I wish it was slightly less spicy so the garlic flavor came through a bit more but it does taste pretty much like a spicy garlic sauce. I must admit I'm a bit of a wimp when it comes to spice but if you're like me you also might find this a little much. If you're a heat fan and appreciate garlic I bet you'll really enjoy this aioli.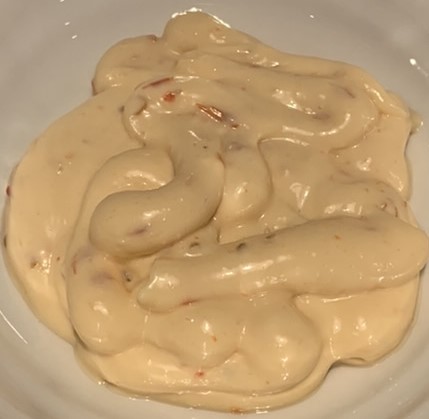 I have enough Culinary Treasures Roasted Garlic & Chili Aioli from Costco to last me quite a while so I probably won't be repurchasing it anytime soon! My husband really enjoyed it with the McCain Sweet Potato Fries from Costco but I found it a little bit too spicy.
Cost: 9/10
Convenience: 10/10
Nutrition: 2/10
Taste: 6.5/10
Are you an aioli fan? Any other ideas on how to use this?