CONTEST #4! – Happy Father's Day! L'Oréal Paris Men Expert Haircare and Skincare Offers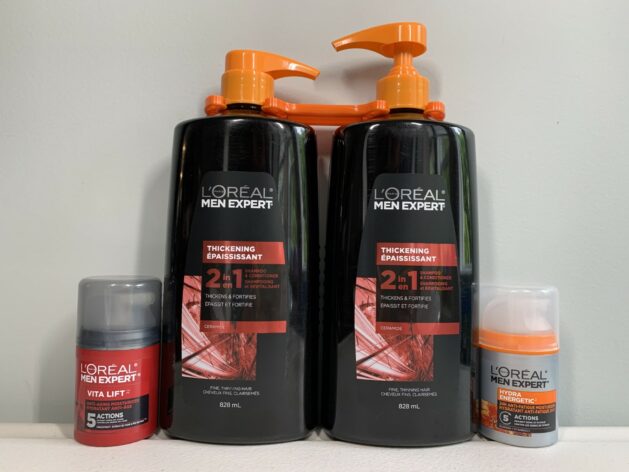 It's Father's day and the Costco West Fan Blog has partnered with L'Oréal Paris Men Expert to help them promote three great skincare and haircare products tailored specifically for men!  All these products are new to me (and to Costco) and L'Oréal Paris Men Expert has provided me samples to try and provide my honest opinion.  This is the first time I have noticed Costco carrying L'Oréal products specifically for men and a fun treat for me, since I have traditionally used whatever is in the house from my wife or kids!  If you choose to purchase these products at Costco instead of your local drug store, you will find you are saving quite a bit of money too!
This is a paid promotion and all opinions are my own…  With that being said, I would never promote a product that I didn't sample and believe in.
Read the review to the bottom to find out how to win one of three great L'Oréal Prize packs from our fourth L'Oréal Contest!
L'Oréal Paris Men Expert Thickening 2-in-1 Shampoo and Conditioner 
During my last haircut I definitely started to notice that my hair has started to disappear and get thinner and so I was happy to give the L'Oréal Paris Men Expert Thickening 2-in-1 Shampoo and Conditioner a try.  To be honest, ever since I got married, I've been using the same shampoo as my wife.  Over the last year we've been using the L'Oréal Paris Extraordinary Oil Shampoo and Conditioner and it has been great, but the scent is a little feminine.  The L'Oréal Men Expert 2-in-1 definitely smells more masculine with a nice citrus scent – but not overpowering.
I appreciate the 2-in-1 format, since with my short hair, I always feel like adding conditioner in my hair seems like an unnecessary step.  I usually skip the conditioner during my shower, but I noticed that my hair does feel extra soft after showering and it has the added bonus of helping my hair look better when styled.
L'Oréal Paris Men Expert Hydra Energetic Moisturizer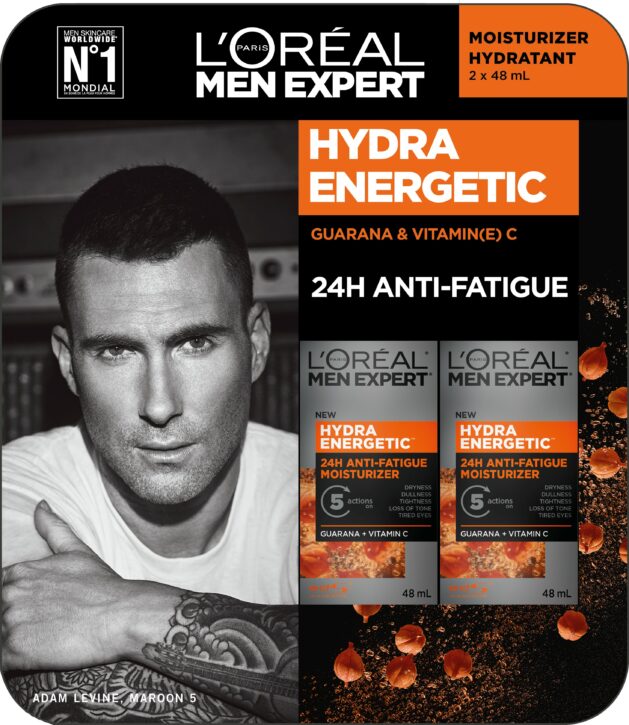 L'Oréal Paris Men Expert Hydra Energetic
This moisturizer is formulated with Vitamin C and Guarana. Vitamin C is an antioxidant known to boost skin's radiance and Guarana has 4x more caffeine than black coffee, it provides a natural boost of energy throughout the day.  Together, these ingredients help to address the 5 signs of fatigue – dryness, dullness, tightness, loss of tone and tired eyes. The moisturizer comes in a handy pump bottle and absorbs easily into your skin and does not feel greasy at all.  It has a nice cooling sensation when you put it on and a traditional citrus scent.  It definitely made my face feel great and noticeably less dry and dull!
L'Oréal Paris Men Expert Vita Lift
Another new product arriving at Costco is the L'Oréal Paris Men Expert Vita Lift.  If you feel like the effects of aging are catching up to you (like me), then you may be more interested in the L'Oréal Paris Men Expert Vitalift moisturizer.   This face cream for men is formulated with French Vine Extract and Pro-Retinol which helps defend itself against external factors like pollution and wind which contribute to the visible signs of aging.  Lately, because I've been taking my two kids outside every morning while my wife works, I've definitely felt like my face has been getting too much exposure to the sun (we all wear sunscreen, but we've all got farmer's tans already and it is not even summer.  Combine this with some weekly bonfires, and I feel like this moisturizer is the one for me.  This moisturizer is not greasy and soaks right in.  It immediately felt like my skin was firmer, and improved my complexion – a definite winner in my books!
Locations Available
The L'Oréal Paris Men Expert Thickening 2-in-1 Shampoo and Conditioner will be available at all warehouses!  The L'Oréal Paris Men Expert Face creams are a limited release and will only be available at the following locations:
CALGARY EAST
CALGARY NORTH
CALGARY NORTHWEST
CALGARY SOUTH
EDMONTON NORTH
EDMONTON NORTH EAST
EDMONTON SOUTH
GRANDE PRAIRIE
LETHBRIDGE
MEDICINE HAT
NISKU
OKOTOKS
RED DEER
ROCKY VIEW
SHERWOOD PARK
ST. ALBERT
WEST EDMONTON
ABBOTSFORD
BURNABY
COURTENAY
DOWNTOWN VANCOUVER
KAMLOOPS
KELOWNA
LANGFORD
LANGLEY
NANAIMO
PORT COQUITLAM
PRINCE GEORGE
RICHMOND
SURREY
WILLINGDON
WINNIPEG EAST
WINNIPEG I
WINNIPEG SOUTH
REGINA
S. SASKATOON
SASKATOON
CONTEST #4 INFORMATION
L'Oréal has provided 3 great prize packs for us to give away.  We will be holding a contest on Facebook and all you have to do is to comment on this Haircare & Skincare post with your favorite Father's Day gift (received or gifted) & to let me know which Prize Pack in which you are interested!  You can go directly to the post here: https://www.facebook.com/costcowestfanblog/posts/1569061903254170
Haircare Prize Pack
A yearly supply* of Men Expert Thickening 2-in-1 Shampoo and Conditioner + Men Expert Thickening Styling Cream:
3 X Thickening 2-in-1 591ml  SRP $8,99
3 X Thickening Styling Cream SRP $8.99
Vitalift Prize Pack
Pure Charcoal Face Wash: SRP $9.99
Anti-Aging Moisturizer: SRP $15.99
Anti-Aging Eye Cream: SRP $15.99
Hydra Energetic Prize Pack
Anti-Fatigue Cleanser: SRP $9.99
Anti-Fatigue Moisturizer: SRP $15.99
Anti-Fatigue Eye-Roller: SRP $15.99
Gook Luck Everyone!
No purchase necessary. Contest ends July 5, 2020 at 11:59 pm (PT). Open to Residents of Canada, 18+. The prizes are:
Conditions apply. 1 entry/person. Correct answer to math skill-testing question required. Contest is not sponsored by Instagram® / Facebook®.  Winner will be announced via Facebook on Monday, July 6, 2020 at 9:00 AM (PT). Winners will be contacted no later than Monday, July 6, 2020 at 9:00 AM (PT) to claim prizes.
***This is a fan run, independent page with no affiliation or endorsement by Costco Wholesale***