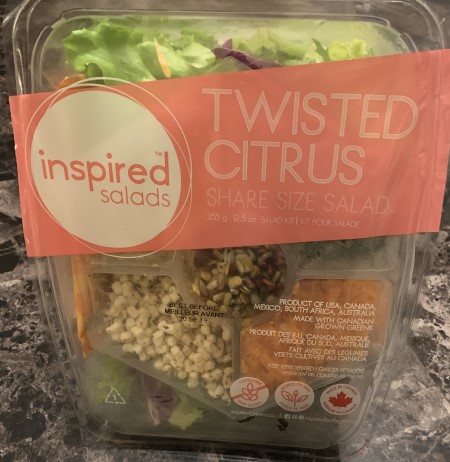 An interesting combination of ingredients! 
Please note that this review was not paid for or sponsored by any third party. I purchased this product with my own money and the opinions in this review are strictly my own. I am not affiliated with Costco or any of its suppliers. I am just a fan of the company. I write these reviews to help my fellow shoppers.
Hi it's Natalie from the Costco food and product review fan blog  Costcuisine! If you like my reviews for Costco food products the greatest thing you can do is follow me on  Instagram or Facebook and also tell yours friends about my blog Costcuisine where I review tons of Costco food products each week!  In the last week I reviewed the 2020 Costco Kirkland Signature Pumpkin Pie, Truly Hard Seltzer Lemonade Drinks, Tonkotsu Ramen and SoKusa Shrimp Chips! 
I love a good salad and have a ton of salad recipes posted on my blog using Costco ingredients. I reviewed the Inspired Foods Kick'n Caprese Salad on my bog and because I loved that salad so much I decided to pick up this new Inspired Foods Twisted Citrus Salad to review.
Cost
I purchased this salad for $7.99 Canadian. Really expensive and a little overpriced in my opinion but pre-made salads from the grocery store are generally never cheap unless on sale.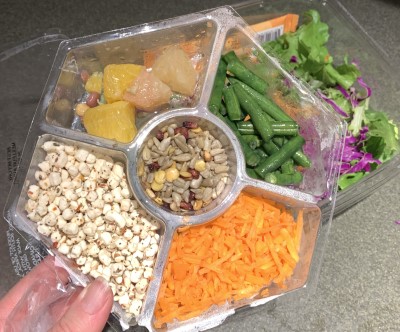 Convenience
This is really convenient! Basically, all the ingredients come in a little tray resting on top of the lettuce and all you need to do is dump them on the lettuce and add your dressing. If you're in a rush and want a quick, fancy salad to serve this is definitely that. The best before date on the salad was two days from the date we purchased the salad at Costco. This makes a really decent sized salad for two or if you're okay having a little less salad this would even work for four people as a side salad.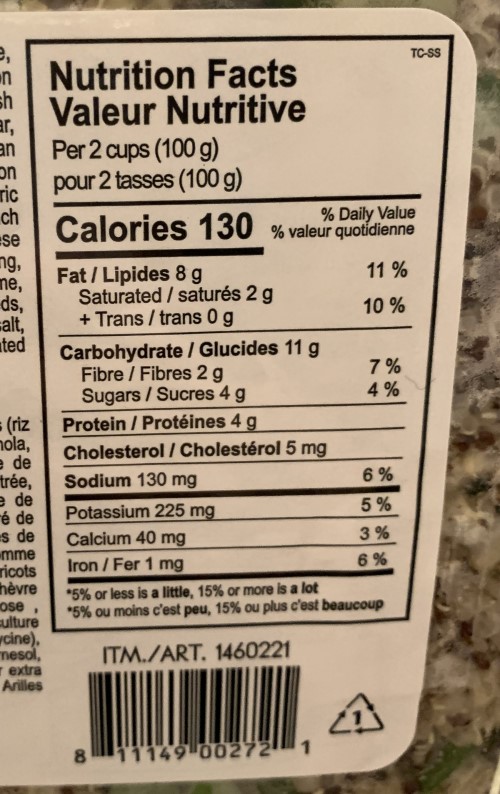 Nutrition
Two cups is 130 calories, eight grams of fat, 11 grams of carbohydrates, four grams of sugar, two grams of fibre and 130 mg of sodium. A little high in fat but that's most likely related to the salad dressing. Not a ton of sugar which is a good thing! The ingredients list is actually pretty impressive! This salad has a TON of ingredients.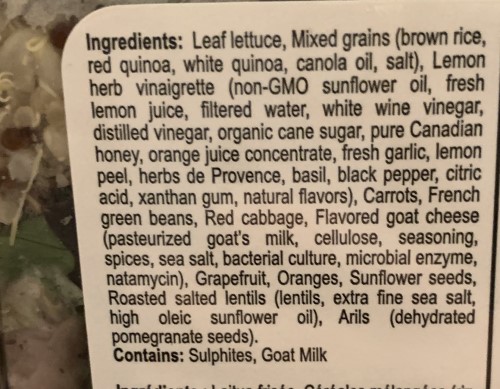 Taste
There's a LOT going on in this salad. There's lettuce, grains (rice and quinoa), carrots, green beans, cabbage, goat cheese, grapefruit, oranges, sunflower seeds, lentils and pomegranate seeds. Honestly, it's a bit much and not everything goes well together. I could do without the green beans and the grains, I think they were just unnecessary add-ins that didn't compliment the rest of the ingredients. The grapefruit and orange is really refreshing and the salad dressing is a light citrusy vinegarette that isn't heavy or overpowering which was nice because there's so much already going on in this salad! Goat cheese in my opinion just makes everything taste better.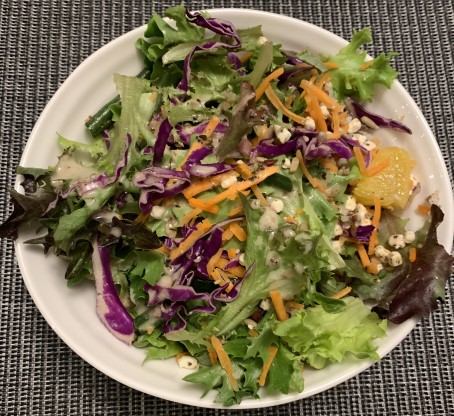 Overall I enjoyed this salad and loved the convenience but it wasn't my favorite and I wouldn't spend $7.99 again for it.
Cost: 4/10
Convenience: 10/10
Nutrition: 7/10
Taste: 7.5/10
What's your favorite salad to pick up from Costco?