Class Action: Claim up to $250 for Microsoft Office/Windows – No receipts required
Hi Everyone,
This is not specifically a Costco Deal, but it is a great deal nonetheless.  I love saving mo Wu, but I love free money even more!  If you have purchased (between December 23, 1998 and March 11, 2010 (inclusive):
PC versions of Microsoft's Word, Excel, Office, Works Suite, or Home Essentials applications software (including any full upgrade versions); OR
PC versions of Microsoft's MS-DOS or Windows operating systems software.
You may be eligible for a payment of up to $250!
If you purchased a computer that was pre-loaded with Windows already installed, you are still eligible!  For me, who upgrades their computer once every two years (along with a new copy of Microsoft Office), you can claim quite a bit back.  You can claim up to $250.00 without submitting receipts.
It will take you a while to get the money, but I have signed up for quite a few of these and I always seem to get a cheque in the mail – even though I have long forgotten about it!
Here is the chart to show you much you will receive: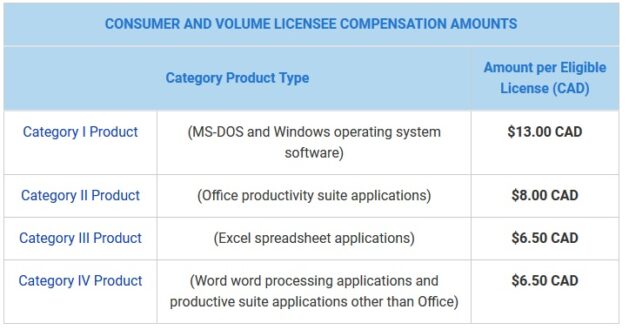 If you are claiming a copy of Windows and Office every two years ($21 every two years), you can easily get your claim over $140.
The claim form is pretty easy to fill out – you just need to enter the product, the year purchased and the vendor.  You do not need exact dates.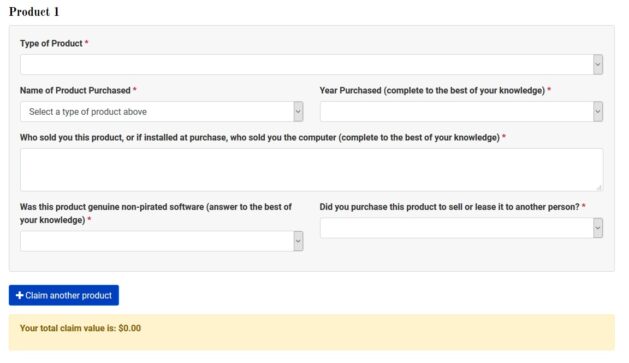 START YOUR FILLING OUT YOUR CLAIM HERE:
https://www.thatsuitemoney.ca/