Tastes like regular spaghetti to me!
Please note that this review was not paid for or sponsored by any third party. I purchased this product with my own money and the opinions in this review are strictly my own. I am not affiliated with Costco or any of its suppliers. I am just a fan of the company. I write these reviews to help my fellow shoppers.
I've always been intrigued by plant based pasta and have wondered how close it tastes to regular pasta so when I saw Costco had this pedon more than PASTA yellow lentil spaghetti in the section with all the other pasta I decided to pick it up to try and review. The item number is 1291245.
Cost
I paid $9.99 Canadian for the 1kg box of yellow lentil spaghetti which is obviously a bit more than just regular spaghetti but for a gluten-free pasta I don't see this as being wildly overpriced.
Convenience
Just as simple to cook as regular spaghetti! You boil some water with a pinch of salt and cook the pasta for about nine to 10 minutes and then drain it. The best before date is almost two years from the date we purchased the yellow lentil spaghetti. This goes amazingly well with the Rao's Marinara Sauce and can be used in any meals that you'd use spaghetti in.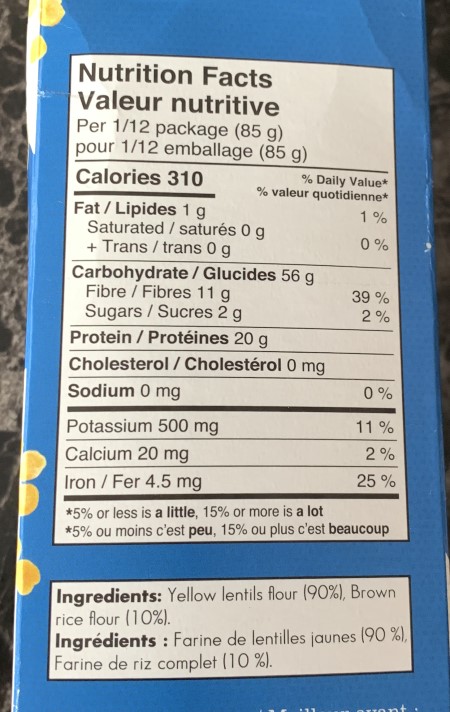 Nutrition
This is vegan, gluten free, high in iron and fibre and has 20 grams of protein per serving. 1/12 of the package is 310 calories, 20 grams of protein, two grams of sugar, 11 grams of fibre, 56 grams of carbohydrates, one gram of fat and 0 mg of sodium. The ingredients list is short and sweet, yellow lentil flour and brown rice flour. I love that one serving has 20 grams of protein, that's quite a bit of protein!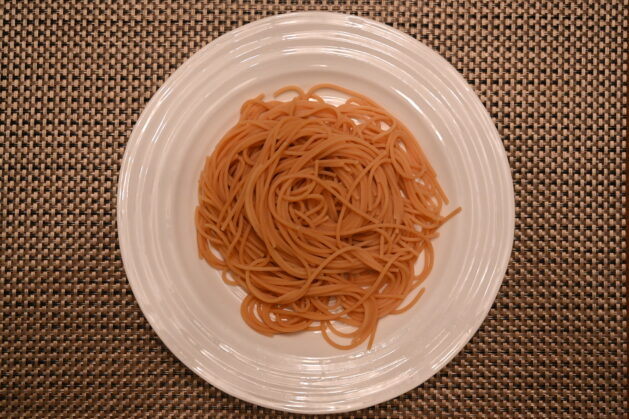 Taste
This spaghetti was a pleasant surprise! Underneath Rao's marinara sauce mixed with some ground beef neither of us could tell that this was lentil spaghetti. The noodles are definitely a little bit firmer than regular wheat pasta even after cooking the spaghetti following the package directions but I like my spaghetti more al-dente so I didn't mind. If you like a softer noodle I'd cook these a little longer than the package directions and test the firmness by pulling out a noodle ever so often. There's for sure a slight bit of lentil flavor when you try these plain without any sauce but that flavor is very easily masked by any kind of sauce or additional ingredients.
I will continue to purchase this yellow lentil spaghetti because I really didn't taste any difference between this and regular wheat containing spaghetti. We're trying to reduce gluten due to inflammation but we absolutely love spaghetti so this is definitely on my list of gluten free go to products from Costco.
Cost: 7.5/10
Convenience: 7/10
Nutrition: 9/10
Taste: 8.5/10
Have you tried any gluten free spaghettis or pasta that you love? If so, please share what brand!