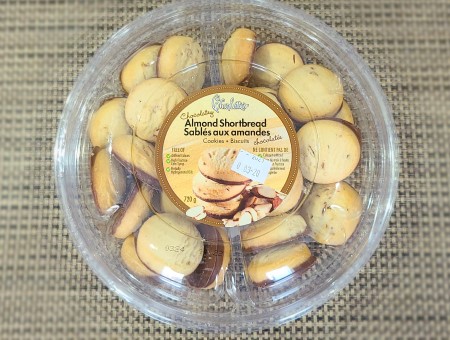 Tasty almond shortbread cookies!
Please note that this review was not paid for or sponsored by any third party. I purchased this product with my own money and the opinions in this review are strictly my own. I am not affiliated with Costco or any of its suppliers. I am just a fan of the company. I write these reviews to help my fellow shoppers.
Hi it's Natalie from the Costco food and product review fan blog  Costcuisine! If you like my reviews for Costco food products the greatest thing you can do is follow me on  Instagram or Facebook and also tell your friends about my blog Costcuisine where I review tons of Costco food products each week!  In the last week, I reviewed the Costco Bombombs Hot Chocolate Cocoa Bombs and the Costco DJ&A Shiitake Mushroom Crisps. 
Last Friday I spotted these Charlotte's Chocolatey Almond Shortbread cookies at Costco and hadn't seen them before so I wanted to pick them up to try them. They looked very tasty and I'm a fan of shortbread plus I loved the fact the bottoms were coated with chocolate so in my cart they went!
These cookies can be found in the bakery section at Costco and the item number is 1500564.
I paid $9.89 Canadian for the 720 gram container of cookies.
The best before date is about three weeks from the date we purchased the cookies and they come in a really convenient resealable plastic container that has a divider in the middle splitting the cookies into two sections.  If you can't eat them before the best before date they freeze really well. I've enjoyed these as an afternoon snack with a cup of tea and also have enjoyed them in the morning with my coffee! One is just enough to combat any cravings for sweets I have.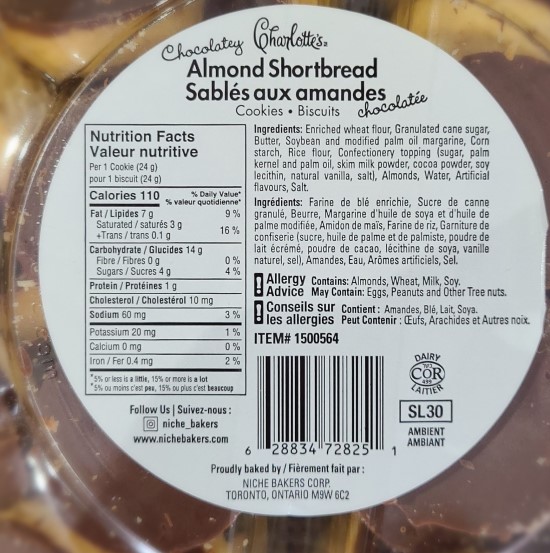 One cookie is 110 calories, seven grams of fat, fourteen grams of carbohydrates, zero grams of fibre, four grams of sugar, 60mg of sodium and one gram of protein. When I saw the four grams of sugar I was shocked! They definitely taste sweet and I can't remember any time in the past I've had a cookie with only four grams of sugar. The ingredients list isn't very healthy with cane sugar and palm and soybean margarine being the second and third ingredients.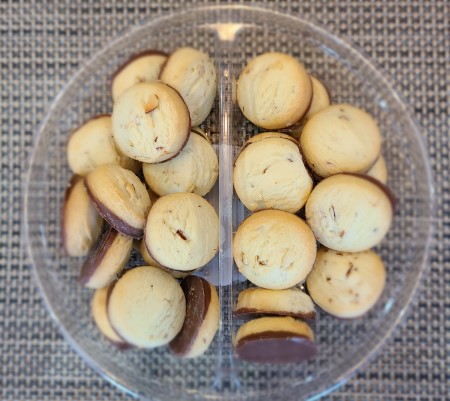 I actually really enjoyed these cookies and so did my husband and parents. They're softer than I expected and melt in your mouth. There's a slight hint of almond flavor to the shortbread but not as strong as I've had in other almond shortbread cookies. The chocolate on the bottom is my favorite part and totally just adds some small additional delicious chocolateyness.
These cookies aren't heavy and are quite simple, slightly sweet and delicious. They pair well with coffee and tea and are great for those who like plain almond shortbread and also for those that like a bit of chocolate in their cookies!
Cost: 8/10
Convenience: 10/10
Nutrition: 2/10
Taste: 8/10
Would you try these? Why or why not?