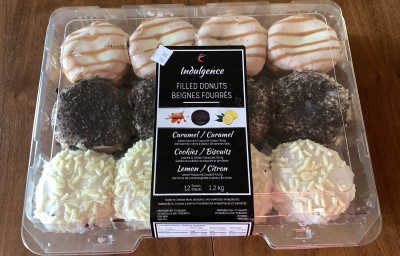 Hi it's Natalie from the Costco food and product review fan blog  Costcuisine! If you like my reviews for Costco food products the greatest thing you can do is follow me on  Instagram or Facebook and also tell your friends about my blog Costcuisine where I review tons of Costco food products each week! You can also check out my Youtube Channel where I do video reviews for Costco products! 
Last night my husband and I did a big Costco haul! We bought six cedar trees for our backyard from the garden center and were amazed that they were only $25 dollars each! We also saw these new Indulgence brand Filled Donuts in the bakery section and couldn't resist picking them up! They're made in Canada which is awesome and we both love donuts.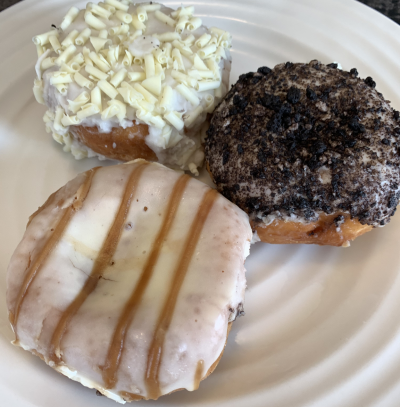 We paid $10.99 Canadian for the pack of 12 donuts which actually really isn't all that cheap compared to the cost of donuts from a local donut shop.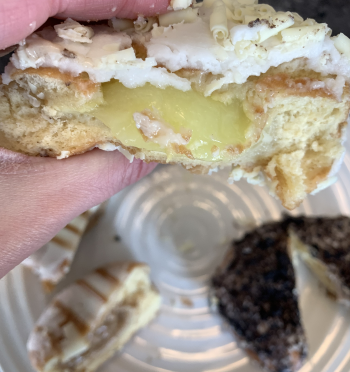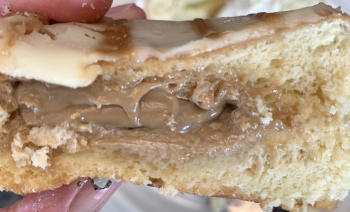 The best before date is a week from the date we purchased them! That seems really long and I'm not sure how they could stay fresh or not mold in a week's time. These are great for breakfast or dessert and come in a plastic resealable container. I was careful with them in my cart because I noticed a lot of the donut containers on display had been squished and the icing was covering the lid of the container. You could definitely freeze these easily to maintain freshness and enjoy later!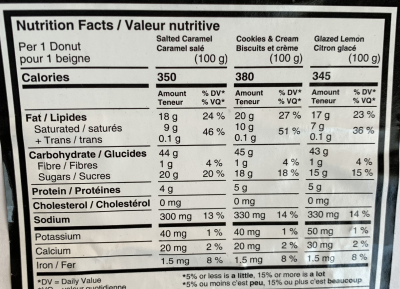 These definitely aren't healthy for you. Depending on which flavour of donut you have you're looking at 345-380 calories, 17-20 grams of fat and 15-20 grams of sugar. I love donuts and will happily indulge in them all-well knowing how much sugar, fat and calories are in them but they have to be worth it.The ingredients list has a TON of ingredients listed that I have no idea what they actually are.
The filled donuts come in three flavours caramel, cookies and cream and lemon. When they say filled donuts they mean filled donuts, these donuts are definitely not lacking in the filling department and it oozes out when you take a bit. They're all VERY sweet. The caramel was my favorite, then cookies and cream and finally the lemon came in last for me. I noticed that I could actually taste the flavour of the dough when trying the caramel and cookies and cream flavour and the dough did have a nice flavour to it but when I tried the lemon it was too sweet and sugary to really taste the dough at all. The cookies and cream and caramel donuts have cookies and cream and caramel icing on the top while the lemon has a really sweet, vanilla icing that there's way too much of. The donuts were soft and a bit soggy despite having a week left to go before their best before date.
These definitely aren't as good as donut shop donuts (we have a bunch of fantastic locally owned donut shops in Edmonton) and are pretty much what you'd expect for grocery store donuts. If you're craving donuts, just go to a bakery or donut shop and pass these by.
Cost: 5/10
Convenience: 10/10
Nutrition: 0/10
Taste: 6/10
What's your favourite kind of donut?
Please note that this review was not paid for or sponsored by any third party. This product was purchased by Costcuisine for the purpose of producing this review. The opinions in this review are strictly those of Costcuisine. Costcuisine is not affiliated with Costco or any of its suppliers. In the event that Costcuisine receives compensation for a post from the manufacturer of a product or some other third party, the arrangement will be clearly disclosed (including where the manufacturer of a product provides Costcuisine with a free sample of the product).