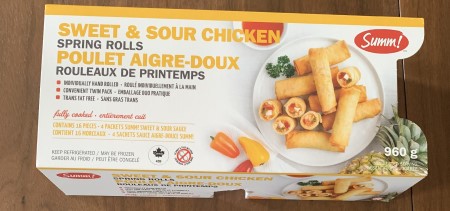 Hi it's Natalie from the Costco food and product review fan blog  Costcuisine! If you like my reviews for Costco food products the greatest thing you can do is follow me on  Instagram or Facebook and also tell your friends about my blog Costcuisine where I review tons of Costco food products each week! You can also check out my Youtube Channel where I do video reviews for Costco products! 
I found a new spring roll while I was at Costco last time and I've tried so many spring rolls from Costco but never this Summ! Sweet & Sour Chicken Spring Roll so I decided to try them and review them! You can find these in the refrigerated section at Costco by the refrigerated pot roast, pasta and falafel.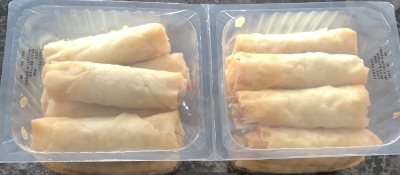 I paid $9.89 Canadian for the 960 gram pack of spring rolls. These includes two separate packs of 8 spring rolls, each pack has two sauce packets in it.

These are very easy to either bake or air-fry. To bake them which is what I did you preheat the oven to 375 degrees farenheit and bake for 18 to 20 minutes. The spring rolls need to be kept refrigerated and the best before date is about a month from the date I purchased the spring rolls. These are great as either a side or appetizer.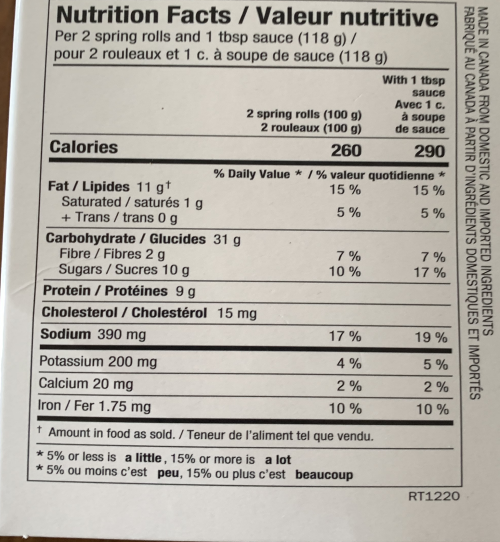 Two spring rolls is 260 calories, 11 grams of fat, 31 grams of carbohydrates, two grams of fibre, 10 grams of sugar, nine grams of protein and 360 mg of sodium. These definitely aren't the healthiest or most nutritious spring roll.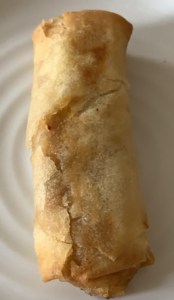 Both my husband and I thought these were just okay, the filling tastes a lot different than any other spring roll I've tried! They actually almost remind me more of a taquito than a spring roll. The filling is mainly just chicken and is quite sweet which makes sense because the ingredients listed after chicken are sugar and ketchup. You also can taste a lot of flavor from the red bell pepper in the filling but I didn't really taste the green pepper or pineapple that's listed on the ingredients. The wrapper was nice and golden brown, flaky and crispy which I really enjoyed. The sweet and sour sauce packet tasted mostly just really sweet so when I dipped my spring roll in the sauce I found the overall combination just way too sweet. I found these spring rolls a little too sweet for me but I think kids would absolutely enjoy them.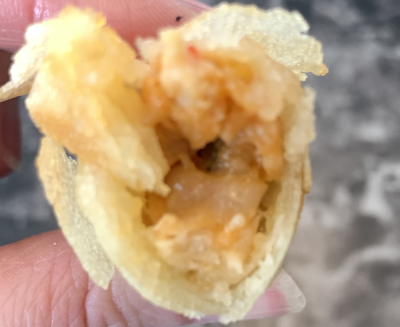 Although I didn't love these as much as I enjoy other spring rolls I've tried in the past like the crispy vegetable spring rolls and the Minh Pork and Vegetable Egg Rolls from Costco I wouldn't say they're at all bad or I regret trying them, they're just not my favorite. I'd love to hear what others who have tried them think!
Cost: 8/10
Convenience: 8/10
Nutrition: 2/10
Taste: 7/10
Have you tried these? What did you think? 

For for more reviews check out my blog Costcuisine!