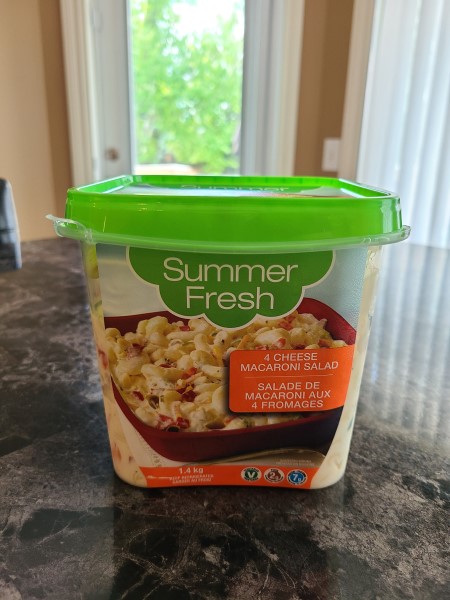 If you like my reviews for Costco food products the greatest thing you can do is follow me on Instagram or Facebook and also tell your friends about my blog Costcuisine where I review tons of Costco food products each week! You can also check out my Youtube Channel where I do video reviews for Costco products! 
It is super hot in Alberta and I also heard from my brother who lives in British Columbia that they're experiencing a heatwave too! I avoid turning my oven on when it gets this hot out and usually opt for something barbecued with a side salad! Today I'm reviewing the Summer Fresh Four-Cheese Macaroni Salad from Costco that's perfect for summer barbecue and camping season!
I paid $9.99 Canadian for the 1.4 kg tub of macaroni salad which is quite reasonable considering how big the container is!
This is great for parties, summer barbecues, a quick lunch with a bit of added protein and vegetables or even just as a snack. One thing that I find not as convenient for a two-person household is that the packaging states the salad should be consumed within five days of opening. That's a lot of macaroni salad for two people to eat in a short amount of time! The best before date on the macaroni salad (unopened) is almost a month from the date purchased.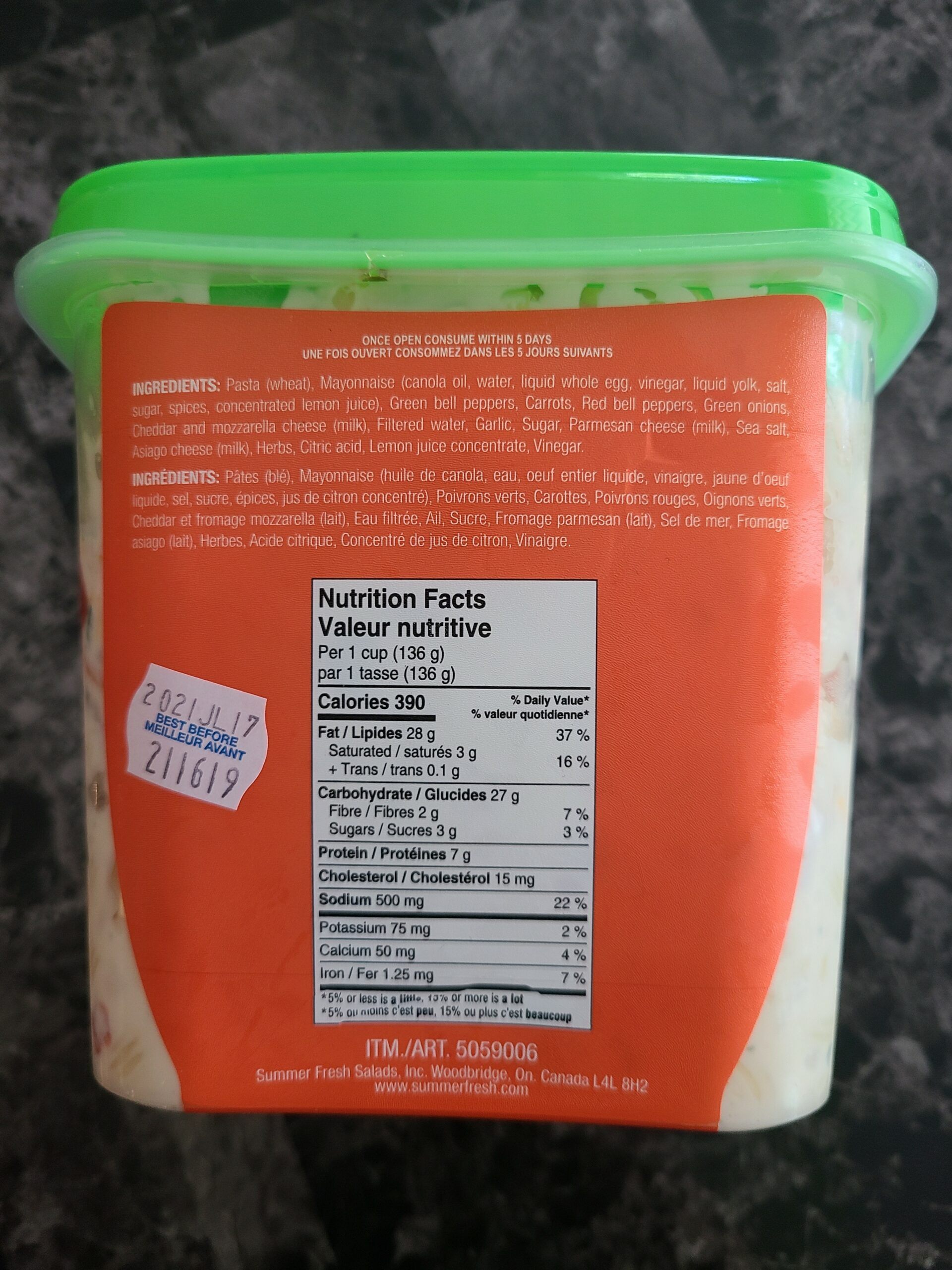 This isn't really a "salad" or healthy. It's quite high in calories and fat. One cup of four-cheese macaroni salad is 390 calories, 28 grams of fat, two grams of fibre, 27 grams of carbohydrates, three grams of sugar, seven grams of protein and 500mg of sodium. The ingredients list is really straightforward.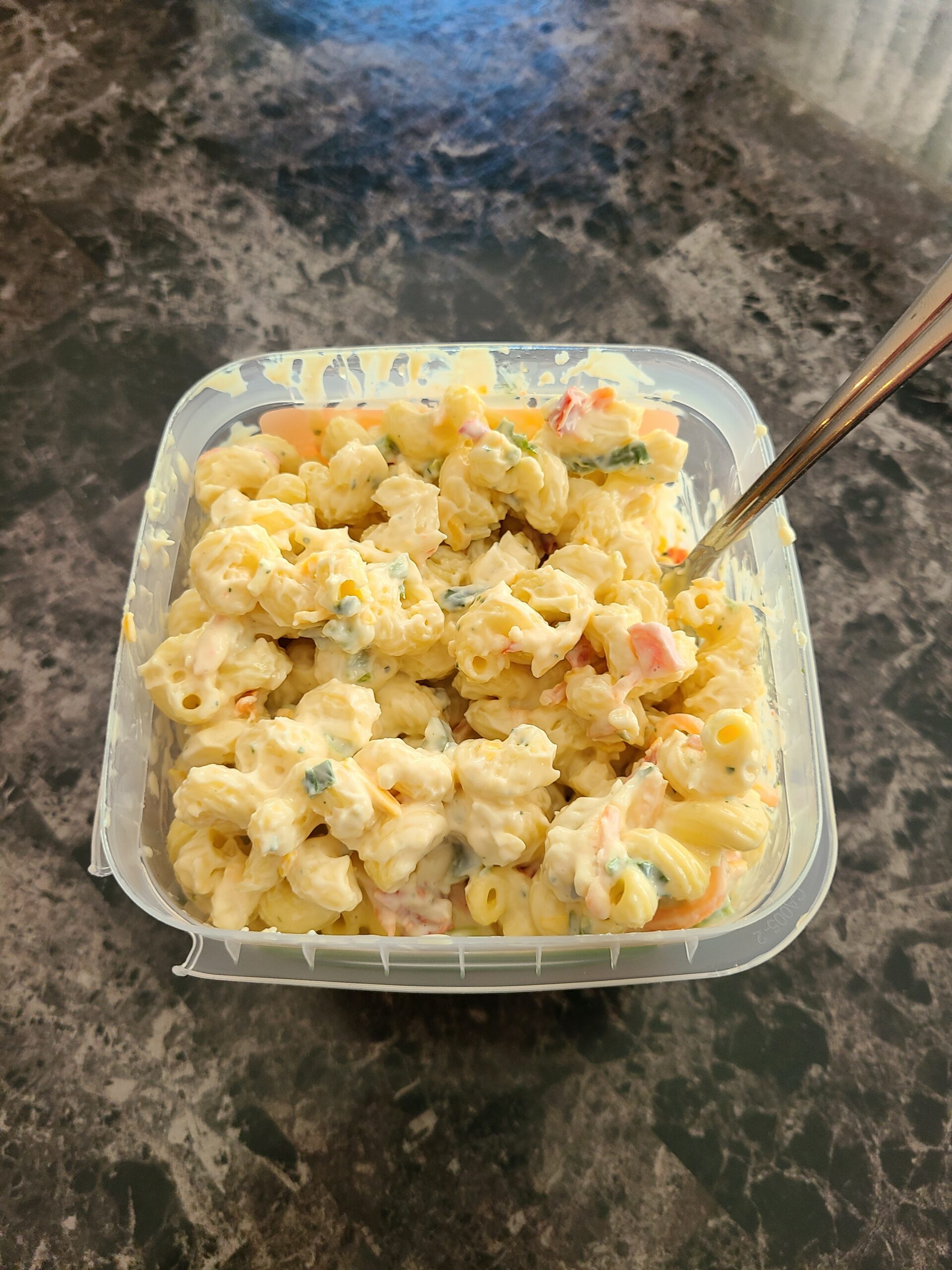 We served this for Father's Day dinner and our parents enjoyed it. I found that I couldn't really taste the cheese which was disappointing, I mainly tasted macaroni and mayonnaise with a few slight flavors of the vinegar, carrots and bell peppers but not much cheese flavor coming through! I would prefer if they cut back on the mayo and increased the cheese. I enjoyed this enough I just wish it had a bit of a lighter dressing as it is quite heavy! Especially if you're having it as a side with burgers or hot dogs that have buns. If you're someone who likes your potato or macaroni salad a little less mayo/dressing heavy you might not enjoy this.
I recommend using this as a base macaroni salad and adding more veggies to it or even some kale or fresh garden lettuce to make it a little lighter!
Cost: 9/10
Convenience: 9.5/10
Nutrition: 2.5/10
Taste: 7/10
Did you try this yet? What did you think of it?

For for more reviews check out my blog Costcuisine!