If you like my reviews for Costco food products the greatest thing you can do is follow me on Instagram or Facebook and also tell your friends about my blog Costcuisine where I review tons of Costco food products each week! You can also check out my Youtube Channel where I do video reviews for Costco products! 
Exciting news! Costco is now carrying cream cheese and I picked up my first tub yesterday to try! If you're a fan of their bagels and want some cream cheese to go with the bagels you may want to try the three new cream cheeses!
I paid $4.99 Canadian for the tub of Strawberry Cream Cheese that I picked up.
The cream cheese needs to be kept refrigerated, comes in a plastic resealable container and has a best before date of three weeks. I love the strawberry flavor because it goes well on everything and anything! Bagels, cookies, fruit, crackers, toast. You can use it to make a strawberry cream cheese cobbler or strawberry cream cheese chocolate truffles.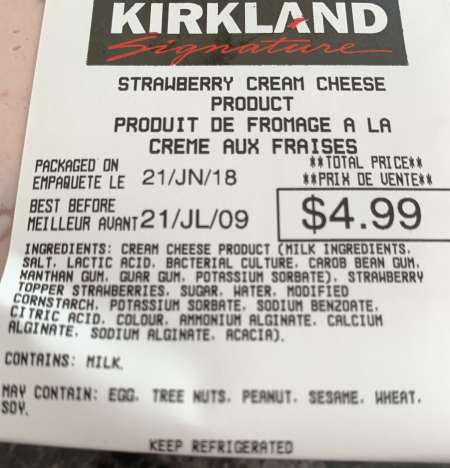 Definitely not the healthiest thing you could eat but it can be part of a healthy balanced diet! I wasn't able to find the exact nutrition information for the cream cheese from Costco but I did some research and guess that one tablespoon is around 80 calories, six to eight grams of fat and about two to eight grams of sugar. Cream cheese is also low in carbohydrates!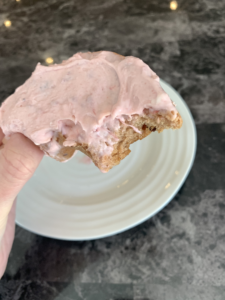 The cream cheese was different than I expected to so that's why I thought it'd be a good review item! It's really, really light and fluffy. Not a heavy cream cheese but more like whipped cream cheese. The strawberry flavor is very subtle and not at all artificial tasting, you taste way more cream cheese tanginess than strawberry. It's also not very sweet which is great, this would taste amazing with freshly cut fruit like pineapple and mangos.