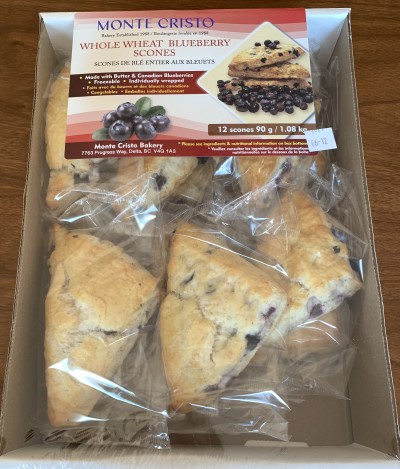 If you like my reviews for Costco food products the greatest thing you can do is follow me on Instagram or Facebook and also tell your friends about my blog Costcuisine where I review tons of Costco food products each week! You can also check out my Youtube Channel where I do video reviews for Costco products! 
The bakery section at my local Costco has these new Monte Cristo Whole Wheat Blueberry Scones! I tried the lemon cranberry scones from the same company so I wanted to try these out and review them here today.
I bought the scones for $12.99 Canadian. You get 12 scones in the box so that's just over a dollar per scone which is very reasonable! Scones at a local coffee shop here range from $3 to $5.

Each scone is individually packaged which I absolutely love and appreciate. I can throw a few in my freezer to enjoy later and was also able to give my parents a few scones. They also are easy to bring to work in my lunch. The scones are great for breakfast, as a snack with tea or coffee in the afternoon and can even be enjoyed as a dessert.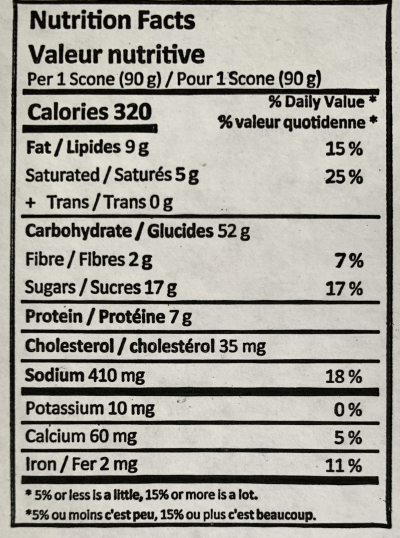 One scone is 320 calories, nine grams of fat, 52 grams of carbohydrates, two grams of fibre, 17 grams of sugar, seven grams of protein and 410 mg of sodium. Obviously not the healthiest item but I do have to point out that the ingredients listed are things I recognize and that I would expect to see in a scone and there's not a ton of additives or chemicals.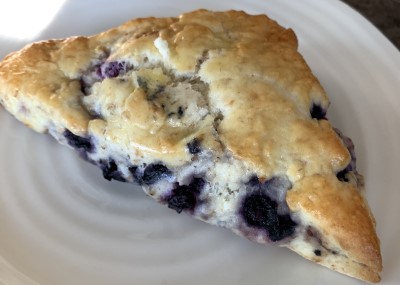 These aren't as good as the lemon cranberry scones by Monte Cristo but they're still really good! They're more dry and crumbly than a regular non whole wheat scone and you can definitely taste that whole wheat flavor. There's an abundance of blueberries and the blueberry flavor is really nice and authentic tasting (tastes like real, fresh blueberries). I love adding a bit of butter to these scones to add a bit of moisture! I eat butter on every scone I've had, even the ones from our local fancy bakery as I find most scones are dry.
I prefer the Monte Cristo Lemon Cranberry Scones but still really enjoyed these and would buy them again.
Cost: 8.5/10
Convenience: 10/10
Nutrition: 1/10
Taste: 8/10
If you've tried these, what did you think of them?