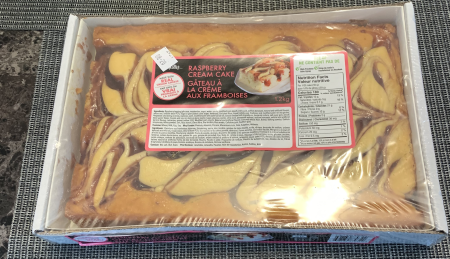 If you like my reviews for Costco food products the greatest thing you can do is follow me on Instagram or Facebook and also tell your friends about my blog Costcuisine where I review tons of Costco food products each week! You can also check out my Youtube Channel where I do video reviews for Costco products! 
I'm reviewing the Charlotte's Raspberry Cream Cake today, I noticed this during my most recent trip to Costco and I love raspberry flavoured desserts so I picked it up to try and review. You can find this cake in the bakery section and it's not refrigerated.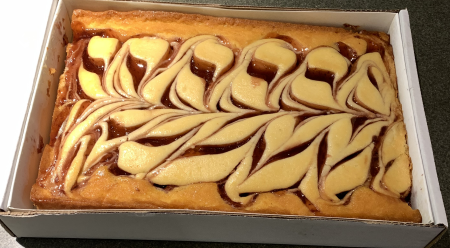 I paid $11.99 Canadian for the 1.2 kg cake which isn't extremely cheap but it's not outrageously priced either, after trying it I think I'd rather put my $11.99 towards a more expensive Costco cake like the Kirkland Signature Tuxedo Cake.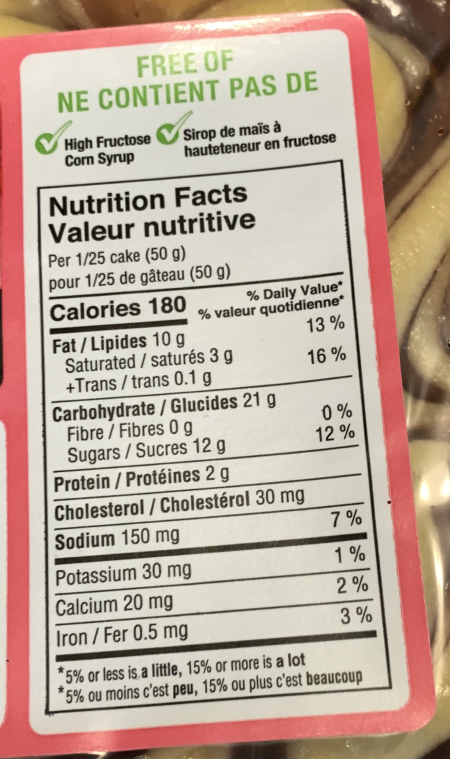 The raspberry cream cake has a best before date of two weeks from the date I purchased it which kind of goes to show that this is full of chemicals. The cake is relatively easy to slice and can be kept at room temperature and it also freezes well. This is convenient for a camping trip, potluck or get together because it doesn't need to be refrigerated and you can get quite a few squares out of one cake.1/25th of the cake is 180 calories, 10 grams of fat, 21 grams of carbohydrates, 12 grams of sugar, two grams of protein and 150 mg of sodium.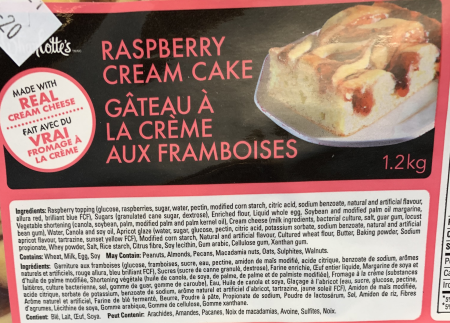 This is full of unhealthy ingredients. I don't mind fresh bakery items with lots of calories, fat and sugar when it's made with simple ingredients like butter, sugar, flour, vanilla, eggs etc. But I'm not a fan of products that are high in calories, fat and sugar while being highly processed with a ton of chemicals.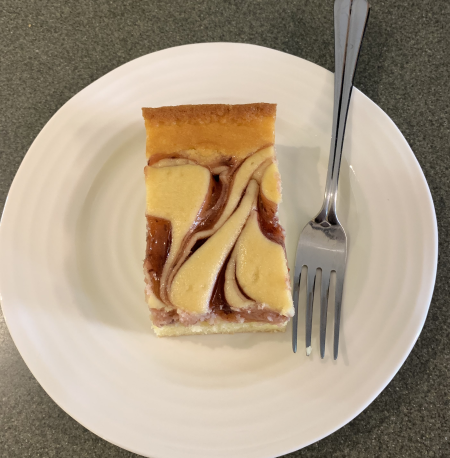 I didn't love this cake, it wasn't terrible but it wasn't great, it didn't really have any cream cheese flavor despite it claiming to be made with real cream cheese. The raspberry flavor was too sweet and not natural tasting at all, the cake itself was moist but didn't have a ton of flavor, it's a plain white cake. Basically this tastes like a plain white cake with "meh" tasting raspberry jam.
Cost: 7/19
Convenience: 10/10
Nutrition: 0/10
Taste: 6/10