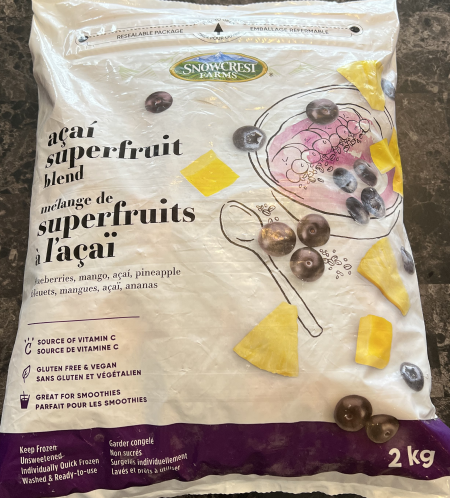 If you like my reviews for Costco food products the greatest thing you can do is follow me on Instagram or Facebook and also tell your friends about my blog Costcuisine where I review tons of Costco food products each week! You can also check out my Youtube Channel where I do video reviews!
Today I'm reviewing the Costco Snowcrest Farms Acai Superfruit Blend. You can find this in the freezer section at Costco near the other frozen fruit and vegetables. I wanted to pick it up to make smoothies and also liked that it's a product of Canada.
I paid $13.49 for the 2 kg bag of frozen fruit. Considering this has acai berries in it that's not that bad as products that have acai can be pretty expensive.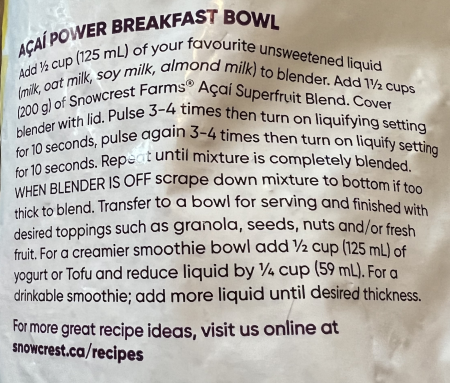 You can use the frozen superfruit blend to make acai bowls or smoothies, add it to your oatmeal or yogurt or just snack on it. The best before date is over a year and a half from when we bought it. The bag states that shouldn't refreeze it once you've thawed it and the bag is resealable.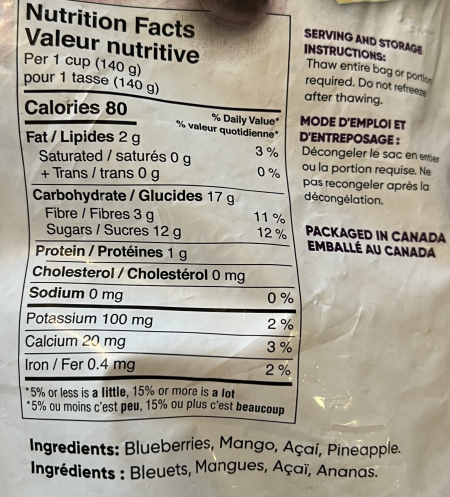 Acai is known to be a powerful antioxidant and that's why it's been quite popular recently. The Acai Superfruit Blend from Costco also has pineapple, mango and blueberries, all of which have health benefits like being high in Vitamin C. Per one cup there are 80 calories, two grams of fat, 17 grams of carbohydrates, three grams of fibre, 12 grams of sugar and one gram of protein. This is basically like a bag of nature's candy.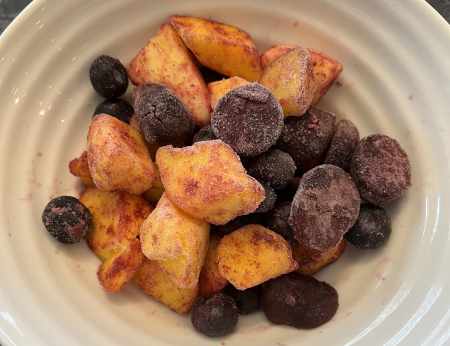 I made a simple smoothie out of the Acai Superfruit Blend with almond milk and Organika Enhanced Collagen for extra protein. The flavour of the fruit isn't too sweet and has a nice mild, fruity flavor. You can distinctly taste the mango and pineapple. If you've never had acai before, it takes like a berry but has a bit of an earthy flavour. If you like super sweet smoothies or acai bowls you might find this not sweet enough but I really enjoyed this mix and will easily use up my bag.
Cost: 8/10
Convenience: 10/10
Nutrition: 10/10
Taste: 8.5/10