Hi everyone! In October I picked up the Irish Rover Dog Advent Calendar for my two dogs and reviewed it on the blog here. I got a call last night from Costco that the advent calendar has been recalled. I admittedly emptied my calendar when I reviewed it and put it in a ziplock bag in my pantry that I forgot about so I haven't actually fed my dogs any of the treats other than when I reviewed it. If you have one, don't feed your dogs the treats and you can return the calendar to Costco.
If you like my reviews for Costco food products the greatest thing you can do is follow me on Instagram or Facebook and also tell your friends about my blog Costcuisine where I review tons of Costco food products each week! You can also check out my Youtube Channel where I do video reviews!
Today I'm reviewing the Charlotte's Minced Fruit Shortbread! This is available in the Costco bakery section for the holidays and it looked festive so I decided to pick it up to review.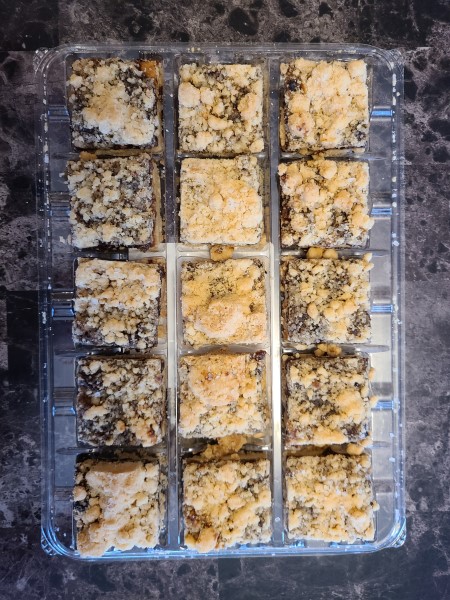 There's 15 minced fruit shortbread bars in the plastic container, I paid $12.99 Canadian.

The minced fruit shortbread comes in a plastic resealable container and the best before date is 13 days from the date we purchased them. You can easily freeze the bars in the plastic container they come in. These make a convenient treat to add to your dessert platter at Christmas if you know someone who enjoys minced fruit or shortbread.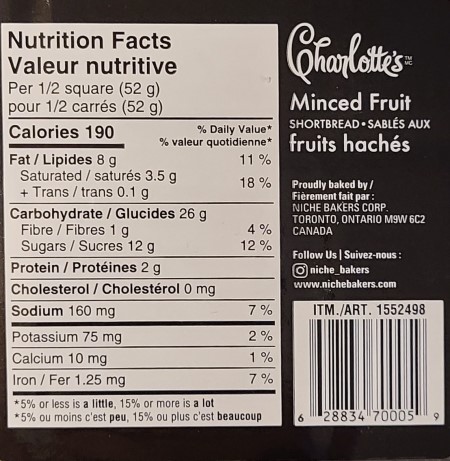 The nutrition information is a bit shocking because they only give you the nutrition facts for a half a bar. I'm going to make it easier by giving the nutrition facts for a whole bar. One minced fruit shortbread is 380 calories, 16 grams of fat, 52 grams of carbohydrates, two grams of fibre, 24 grams of sugar, four grams of protein and 320 mg of sodium.
The bars contain milk, wheat and soy. They also may contain nuts, eggs and sulphites. Otherwise the ingredients list is pretty much sugar, palm oil, flour and dried fruit.
There's a thick bottom layer of shortbread, a middle layer of minced fruit filling and a top layer of shortbread crumbs. It's hard to tell if the shortbread crumbs on top are any different than the bottom layer. It doesn't seem like they're different. The thickness of the top layer is really inconsistent from square to square.
The squares are really crumbly and messy, mainly from the top layer of crumbled shortbread. The package was full of crumbs when I opened it. The shortbread is quite soft and falls apart easily. It has very little flavor. Good shortbread has a rich, buttery flavor. This shortbread tastes like it's made out of flour and salt.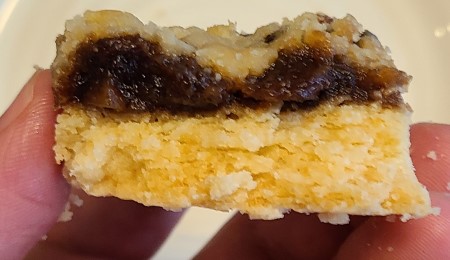 There isn't a lot of the filling in each bar; the middle filling layer is quite thin. The filling tastes sweet, yet bitter. It's been a while since I've had a Fig Newton cookie, but the filling reminds me of that type of filling.
Overall, these squares aren't terrible, but they're not very enjoyable. It's also annoying how messy they are given the mediocre flavors.
Cost: 7/10
Convenience: 9/10 (they lose a point for being crumbly and messy)
Nutrition: 0/10
Taste: 5/10