Location: Burnaby (Willingdon), BC
I hope you are all doing well! It is definitely BBQ and Garden Season at Costco with all the items in the seasonal aisle.  If you are looking for somethings to help you in the garden, this is the time to head down to Costco before what you are looking for sells out.  If you are interested in the Costco Garden Centre, you can visit this post here to get a sample of what is available.
Just a reminder that the Warehouse will be open on Friday (Good Friday – April 15, 2022) with reduced hours, but it will be closed on Easter Sunday (April 17, 2022).  It will be back open on Monday, April 18, 2022 at regular hours again.  That means that despite the holiday, I'll be posting on my usual schedule.
Happy Shopping!
NEW PAID MEMBER FEATURE!  SALE AND CLEARANCE PRODUCT NOTIFICATIONS!
I'm excited to offer paid members the ability to easily create automated E-mail alerts for your favorite products!  This feature will automatically send out an E-mail alert whenever the blog sees that a product has gone on sale or on clearance.  You can use this to make sure you never miss a sale on your favourite product AND if you purchase a large items and want to keep an eye out to see if it goes on sale or clearance.  (Remember, you can price match any sale as long as the purchase has been within 30 days.  The product also has to be at the sale price and in stock.)
To add an item to your alert list, just click on the RED "Sale Alert" button underneath the photo of any item.  You can also add items directly from the product / item number search page.
To view the items on your alert list, just go to the "Product Sale Alerts" option in the menu.  In this page, you will be able to delete or modify items on your list! https://cocowest.ca/salealerts/
Thanks again to all the paid members out there!  It is with your help that I can continue to improve the blog and help people save money.  I plan on investing in lots of updates to the blog over the next year – including having a database of nutritional information and ingredients for the food items.
RETURN OF THE FOUNDERS DISCOUNT!
If you want to take advantage of product sale alerts, but are not yet a paid member, I've turned back on the "FOUNDERS" discount code!  This discount code gives you $10.00 off the annual subscription price to the blog.  It will also guarantee your rate of $19.97 per year as long as you continue to renew your membership.  The discount code will expire on 2022-04-30.
As a paid member, you will receive early access to all the blog posts, a customizable newsletter AND NOW access to Product Sale Alerts so you never have to miss a sale.
To sign up for a paid membership, visit the link here:  https://cocowest.ca/register/
Next week, I'll be getting some help with the data entry part of the blog.  I'm hoping with this extra help I will be able to publish the posts an hour or two earlier than usual.
Happy Shopping!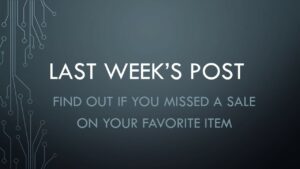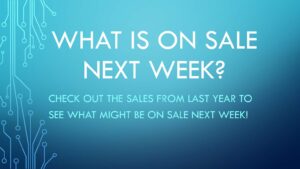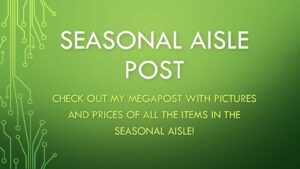 EARLY ACCESS Members must log in to access pictures:  https://cocowest.ca/cocologin/
Memberships can be purchased here.  Photos will be available free to the public the following day at 5:00AM Pacific Time