If you like my reviews for Costco food products the greatest thing you can do is follow me on Instagram or Facebook and also tell youhttps://www.costcuisine.com/post/costco-madegood-chocolate-chip-granola-bars-reviewr friends about my blog Costcuisine where I review tons of Costco food products each week! You can also check out my Youtube Channel where I do video reviews!
Today I'm reviewing the Costco MadeGood Cheddar Flavoured Star Puffed Crackers! I was looking for a new snack to have in the house and wanted to try these.
I paid $10.99 Canadian for 400 gram box that includes 20 packs of crackers that are 20 grams per pack.
Each pack has the perfect portion of crackers! Not too little and not too much. These can be conveniently thrown into a lunch box, purse or glove box! I think kids who are can't eat dairy would really enjoy these for lunch or a snack. The best before date is eight months from the date I purchased the star puffed crackers.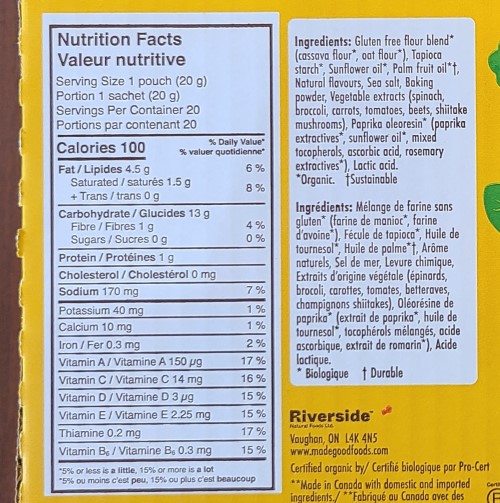 One 20 gram pack of crackers is 100 calories, four and a half grams of fat, 13 grams of carbohydrates (which isn't a ton), one gram of fibre, zero grams of sugar, one gram of protein and 170 mg of sodium. The crackers are gluten-free, dairy-free, certified vegan, organic and nut-free! There's also vegetables in the crackers, spinach, broccoli, carrots and more.

These have an interesting flavour! First of all I don't taste any vegetables in these although they're on the ingredients list. The texture is the same as normal crackers like Goldfish etc. I wouldn't even know these are gluten-free if I blind taste tested them. What I did notice is that these don't really have a cheddar flavour. In my opinion they taste kind of very buttery, almost like buttered popcorn but instead of popcorn there's crackers. I'm getting no hints of cheese from these. I don't absolutely love these crackers, they're okay. They're not as addictive as goldfish and are lacking any real cheddar flavour but if you're following a dairy-free and gluten-free diet strictly I would recommend trying them for yourself.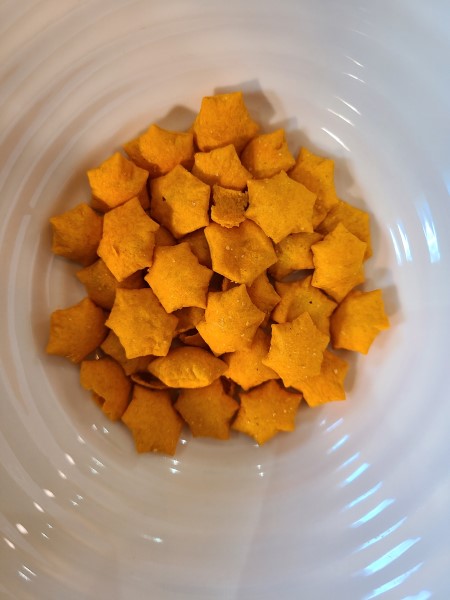 Cost: 8.5/10
Convenience: 10/10
Nutrition: 7.5/10
Taste: 7/10