If you like my reviews for Costco food products the greatest thing you can do is follow me on Instagram or Facebook and also tell youhttps://www.costcuisine.com/post/costco-madegood-chocolate-chip-granola-bars-reviewr friends about my blog Costcuisine where I review tons of Costco food products each week! You can also check out my Youtube Channel where I do video reviews!
Today I'm reviewing the Costco French Cancan Salted Caramel Popcorn! I've previously reviewed the French Cancan Cheddar & Green Onion Flavor on my blog before.
I paid $6.99 Canadian for the 698 gram bag of popcorn, which in my opinion isn't unreasonable at all!
Once opened the bag isn't resealable so I use a clothes pin to seal it after opening. I wish it resealed like the Costco Boom Chicka Pop Popcorn. This is great for a movie night at home or a sweet and crunchy snack on the weekend. I think kids and adults will enjoy this equally.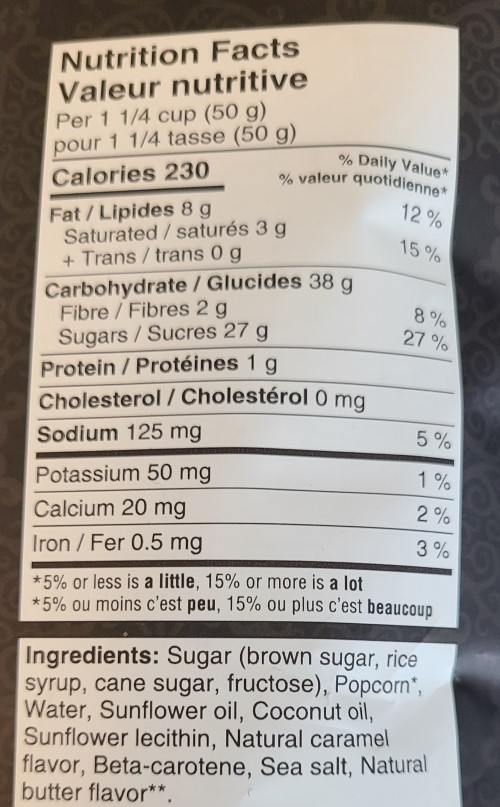 Plain popcorn is usually a healthy, low calorie snack but this salted caramel popcorn is not! A one and one quarter cup serving is 230 calories, eight grams of fat, 38 grams of carbohydrates, two grams of fibre, 27 grams of sugar, one gram of protein and 125 mg of sodium. The first ingredient listed is sugar, which isn't a great sign if you're looking for a healthy snack!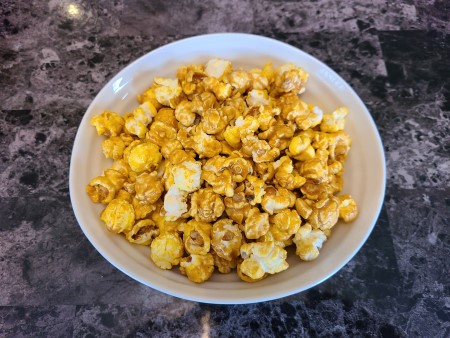 This popcorn is very sweet! The texture is crunchy with a little bit of chewiness from the caramel. It's quite light, despite having a generous amount of caramel on most pieces it's not overly heavy. I notice there's a good balance of sweet, salty and slightly buttery. I would say it's more sweet than salty and buttery. Overall it's highly addictive and as someone who isn't a huge fan of candied popcorn I enjoyed it quite a bit.
Cost: 9/10
Convenience: 10/10
Nutrition: 0/10
Taste: 8.5/10