If you like my reviews for Costco food products the greatest thing you can do is follow me on Instagram or Facebook and also tell your friends about my blog Costcuisine where I review tons of Costco food products each week! You can also check out my Youtube Channel where I do video reviews!
It's been scorching recently in Alberta so I wanted to review this pack of popsicles from Costco. The Iceberg Fun Pack.
There are 36 popsicles in the pack, each popsicle is 75 milliliters and there are 12 of each kind of popsicle. The pack costs $7.99 Canadian on sale at Costco, the regular price is $9.99 Canadian. That's very reasonable for 36 popsicles, especially on sale.
I think this would be great to have in the freezer for kids to enjoy all summer long. Each popsicle is individually packaged and there's a decent variety of ones to choose from. I think they'd also be nice to serve at a kids get-together or summer camp or any large event where there will be kids. The best before date is over a year from when we purchased the popsicles and they need to be kept in the freezer (obviously).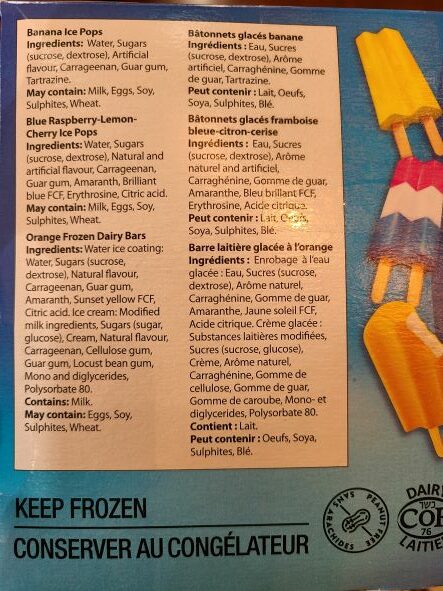 Popsicles are not healthy unless you make your own at home from fresh fruit puree or something like that. These are basically sugar combined with other unhealthy ingredients.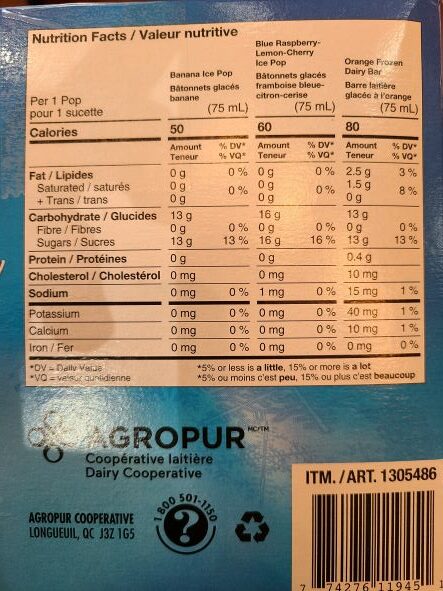 The nutrition facts fluctuate depending on which flavor popsicle you're having. The creamsicles have the most calories and fat which is to be expected and the blue raspberry lemon cherry ice pop has the most amount of sugar. Popsicles are the definition of empty calories but they're a great cooling treat to have on a hot summer day!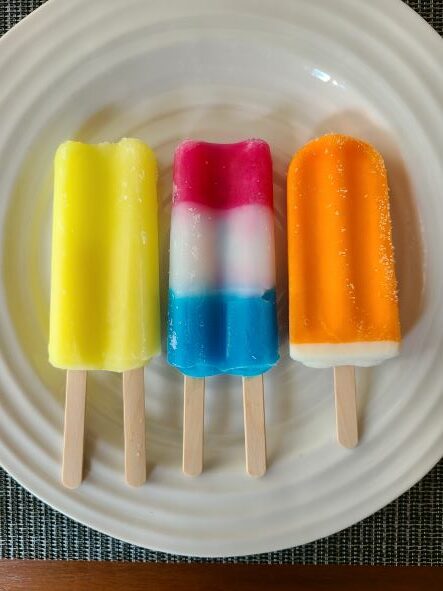 I'll start off by saying I wouldn't buy these again. They're really lacking in flavour except for the banana. The banana is VERY artificial tasting though, I kind of liked it for about ten seconds because it reminds me of the banana flavoured medicine I used to have as a kid but I quickly was turned off and found it too fake tasting. The blue raspberry lemon ice pop has three different sections and each segment tastes like the flavour it's supposed to so I liked that one best. The orange part of the creamsicle is lacking flavor which is disappointing, the ice milk on the inside is the best part but not as good as other creamsicles I've had.
I'd spend a little more money on a pack of popsicles with more flavor and no artificial banana flavor.
Cost: 9/10
Convenience: 10/10
Nutrition: 0/10
Taste: 5/10