If you like my reviews for Costco food products the greatest thing you can do is follow me on Instagram or Facebook and also tell your friends about my blog Costcuisine where I review tons of Costco food products each week! You can also check out my Youtube Channel where I do video reviews!
I always enjoy garlic toast and had yet to try the Kirkland Signature Garlic Baguette from the bakery so I picked it up on my most recent Costco trip to have with salad for dinner.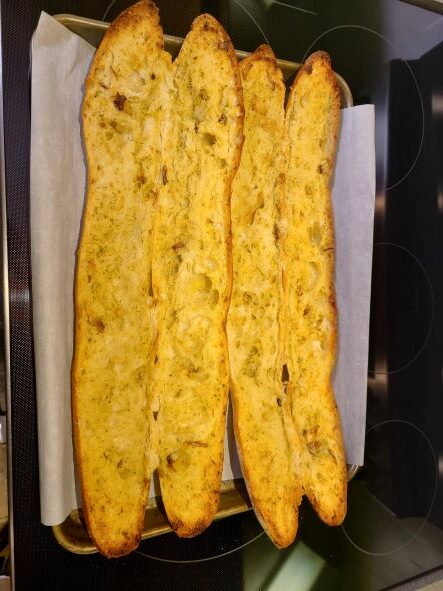 I paid $6.99 Canadian for the bag of two large garlic baguettes which isn't overpriced but I do wish they sold just packs of one because two is a lot and it's never as good from frozen.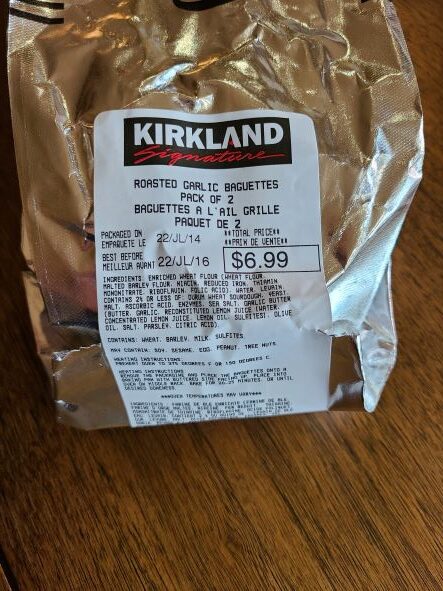 You can definitely freeze the garlic toast but it might not be as fresh tasting once thawed and heated. We ate our garlic toast on the same day it was packaged and I think that resulted in us enjoying it more. The best before date on the garlic loaf is two days from the day it was packaged and I recommend eating it as soon as possible. This is great for a big family get-together, reunion, potluck, or barbecue.
The garlic baguette is easy to bake, you remove it from the packaging and place it on a baking tray. Then heat it at 375 for about 20 to 25 minutes.
I'm glad to see the ingredients list doesn't have a ton of chemicals or unnecessary additives and I'm also happy to see that they use real butter instead of margarine! Obviously, garlic toast is full of carbohydrates from the bread and fat from the butter making it a pretty high-calorie food but I enjoy it every so often as a treat!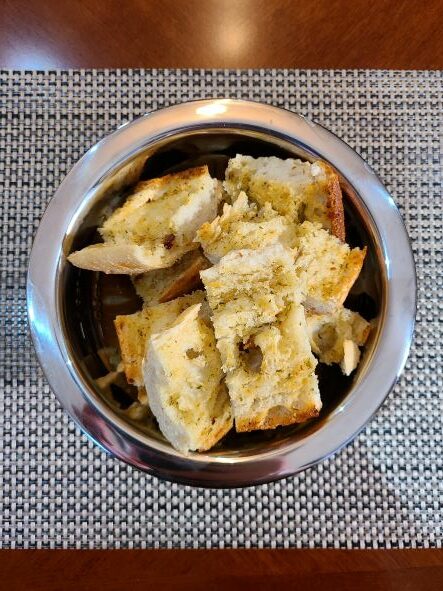 At first, I wasn't sure I liked the garlic baguette but after taking a few bites both my husband and I agreed it was pretty decent as well as addictive, I somehow had four pieces. It has a strong butter flavor and a mild garlic flavor, there's just a small hint of lemon as well. You won't need to be adding any extra butter, that's for sure! The baguette itself is crispy on the edges and outside. The inside is chewy, it's not a soft, fluffy bread in the middle like other garlic bread I've had and also isn't very thick. The bread reminds me of the Costco Kirkland Signature Artisan Burgers Buns in baguette form. I prefer to make my own garlic toast but wouldn't hesitate to buy this again for a large dinner or get-together, it's good, just not my favorite.
Cost: 8/10
Convenience: 9/10
Nutrition: 2/10 (Points for the real butter and sourdough)
Taste: 7.5/10 (Not my favorite but it's good)