Location: Downtown Vancouver, BC
Hi Everyone!
I hope you all had a great long weekend!  Thanks again to my brother who is taking photos for me the month of August.  We've been in the Gulf Islands for the past week with family and have been having fun exploring the tide pools, canoeing and picking blackberries. The weather this past week has been extraordinary so we have spent all of our time outside.
Our internet has been installed and hardwired into the house, but now it seems like our solar batteries are not holding a charge.  So, looks like I'll have some more problems to research before our next trip back.
I'll be happy to return to civilization tomorrow as our food supply is starting to dwindle.
There certainly is a large flyer for this month!  I'm on the lookout for a monitor with an external power pack so I can plug into our solar battery,  I'll be checking out the monitors at Costco when I get back.
I'll also be picking up some back to school supplies.  The back to school sales have started on stationary so I'll have to head to the store to pick some things up.
We will be heading off again to Prince Rupert for a wedding next weekend, so my brother will continue to take photos.
Happy Shopping!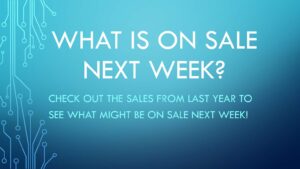 Costco Flyer for Aug 7 – Sep 3, 2023 for BC, AB, SK, MB

Costco Sale Items for Aug 7-13, 2023 for BC, AB, SK, MB
EARLY ACCESS Members must log in to access pictures:  https://cocowest.ca/cocologin/
Memberships can be purchased here.  Photos will be available free to the public the following day at 5:00AM Pacific Time