Location: Langley, BC
Hi Everyone!
I hope you all had a great week!  There were lots of new items one sale this weekend so it may be worth your while to head to the store this weekend to grab some sale items.  There were some new F1 Race Car models that might make some good Christmas gifts and some of the big LEGO sets were on sale too!
If you are looking for a mini Christmas tree decoration, they are all on sale and if you are a coffee drinker, you can pick up a Delonghi Fully Automatic Espresso Maker for $200 off.  This is a great gift for anyone working from home.
I'm off to watch the kids since it is a Pro-D day here for us.
Happy Shopping!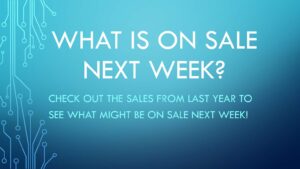 EARLY ACCESS Members must log in to access pictures:  https://cocowest.ca/cocologin/
Memberships can be purchased here.  Photos will be available free to the public the following day at 5:00AM Pacific Time