Hi Everyone,
Loblaws has recently agreed to a settlement after they were investigated by the Competition Bureau for the coordination of price fixing specific bread products from 2001 to 2015. They are offering a Free $25 Loblaw Card to anyone who registers.  Loblaw expects between 3 million and 6 million Canadians will sign up for this deal – so make sure you tell all your friends!
To pre-register for this Free $25 Loblaw Card, please go to the following link:
As part of the settlement, Lowlaw will be offering eligible customers a $25 gift card to be used at its grocery stores in Canada.  The Loblaw umbrella of stores includes:
To claim the Free $25 Loblaw Card, customers will have to register starting January 8, 2018, must be above the age of majority and will have to declare they they purchased an eligible bread product at a Loblaw store before March 1, 2015.
Once you pre-register for this $25 Loblaw Card, you should receive one confirmation E-mail, and another E-mail on (or near) January 8 that will remind you to register for the $25 Loblaw card.
If you want to learn more about why Loblaw is offering this deal check out this CBC article.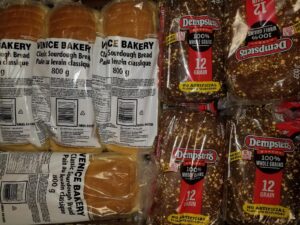 *** One thing to keep in mind when reading this blog is that sales items in the meat and produce section are store dependent – the manager sets the sales for these items. For that reason, the chicken sales that you see this week (and last) may not be available at your store. Also, any items on the blog that end in '.97' means the item is on a clearance. These '.97' items are also store dependent. If you are interested in one of these products you can check with customer service to see if any of the items is available at a nearby store! If you purchased the product previously and it has gone on sale, if you bring in the original receipt and you have purchased the product withing 30 days (or longer, depending on the employee), Costco will refund you the difference!
Use these posts to make the best use of your Costco Card! I have done all the hard work for you and have a weekly listings of all the Costco Sales Items and flyers. Costco does not publish these Costco sales items; the only way to find out what is on sale is to walk the whole store! Come back every Monday to find out what is on sale for the week. The sales may vary slightly by store, but are generally pretty consistent between Western Canada. If there is something you really want, please make sure to double check the expiry date as some of the Costco sales items have been known to end mid-week.
If this blog has helped you save money or has provided you with some entertainment, consider sharing cocowest.ca with your friends and family! Alternatively, you can join the Costco West Facebook group to get updated whenever there is a new post! https://www.facebook.com/costcowestcoupons/. Follow me on Twitter at: @CostcoWest!
Take a look at some pictures from Costco in the UK!
Check out what you can but at the Costco Business Centre in Lynwood, WA Part 1, Part 2
Take a look at some unique Costco Items in Portland!
Take a look at some pictures from Costco Japan – Deli, Seafood & Sushi Items!