Official News: Even More Western Canada Costco Warehouses Open At 9AM Every Day
As Cocowest.ca blogged on Jan 18 2019, select BC Costco warehouses began earlier opening times.  Select Costcos in Western Canada officially changed their opening time to 9AM every day about a month ago.  Now, even more Western Canada Costco Warehouses are officially open at 9am – they have changed the hours on their open hours sign and on the Costco.ca website.
The times are available on the Costco.ca website under each individual store warehouse hours.  See the list below for the newly added stores in red.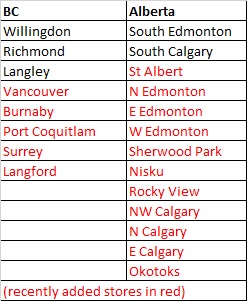 Happy Shopping!
~MyCartIs2Full