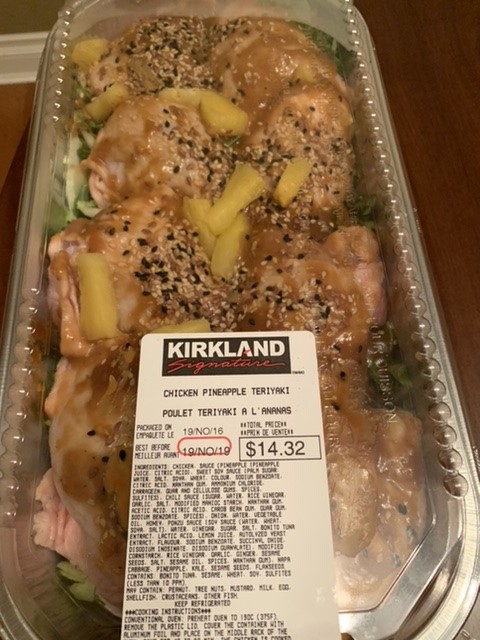 Not my favorite!
Please note that this review was not paid for or sponsored by any third party. I purchased this product with my own money and the opinions in this review are strictly my own. I am not affiliated with Costco or any of its suppliers. I am just a fan of the company. I write these reviews to help my fellow shoppers.
I saw a new meal in the Costco deli section recently, the chicken pineapple teriyaki dish.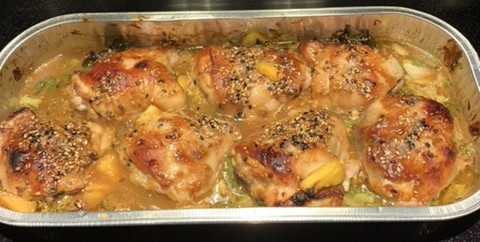 Convenience
This was very convenient! All that's required is putting it in the oven. However it took me way longer to cook it than the directions stated. I used a thermometer to check each thigh and actually ended up cooking mine for about an hour and fifteen minutes to ensure they were cooked enough. I was very hungry by the time they were done!
Taste
I won't be buying this again, this is probably my least favorite deli section preparation I've purchased at Costco. The chicken pineapple teriyaki consists of chicken thighs (bone in and skin on) that are sitting on a bed of kale and cabbage and are marinated in a teriyaki sauce with a sesame seeds and pieces of pineapple on top. I didn't mind the taste of the teriyaki sauce, it was actually quite tasty when I drizzled it over the rice I made as a side. Unfortunately I didn't taste much of the teriyaki sauce on the actual chicken because the skin on the thighs was quite thick and rubbery so I pulled most of the skin off which took the teriyaki sauce with it. The thighs in the meal I purchased seemed quite low quality and each thigh only ended up producing a little amount of edible meat. There was small pieces of bone and quite a bit of fat and gristle. My favorite part was definitely the sauce and the pineapple pieces.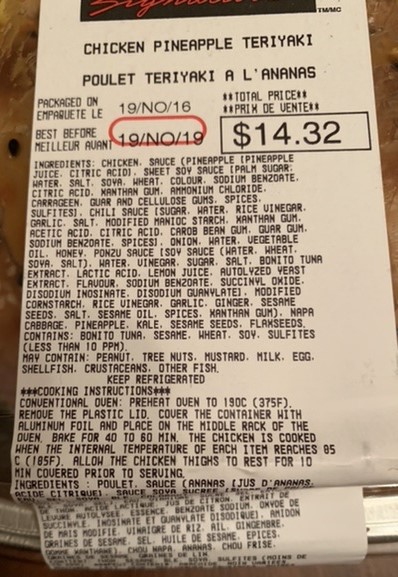 Nutrition
This isn't the unhealthiest meal in the Costco deli section but it's also not the healthiest! The meat had quite a bit of fat and I'm sure the teriyaki sauce has decent amount of sugar. I served the meal with rice and we ate what good parts of chicken we could. There's a long list of ingredients and some of the ingredients have me scratching my head, like "bonito tuna". The dish may contain peanuts, tree nuts, mustard, milk, egg, shellfish and other crustaceans. Also wheat is listed on the ingredients list so this dish is not gluten free.
Cost
I'm glad this meal wasn't overly expensive! The cost fluctuates depending on the weight. I paid $14.32 Canadian for the meal and that included eight chicken thighs.
I won't be buying this dish again.  My husband and I both commented that maybe we just aren't people who live bone-in, skin-on chicken thighs with a lot of fat on them!
Taste: 3/10
Cost: 6/10
Convenience: 8/10
Nutrition: 5/10
Have you tried this? What did you think? Would you try this?