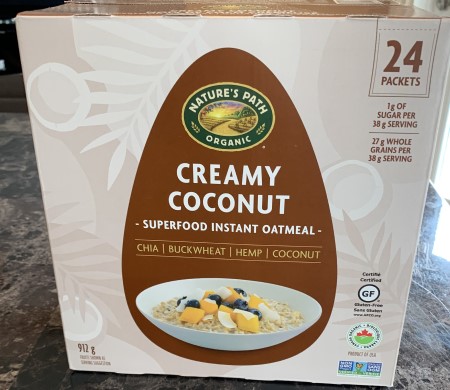 Vegan low sugar, creamy coconut oatmeal!
Please note that this review was not paid for or sponsored by any third party. I purchased this product with my own money and the opinions in this review are strictly my own. I am not affiliated with Costco or any of its suppliers. I am just a fan of the company. I write these reviews to help my fellow shoppers.
Hi it's Natalie from Costcuisine! If you like my reviews for Costco food products the greatest thing you can do is follow me on  Instagram or Facebook and also tell yours friends about my blog Costcuisine where I review tons of Costco food products each week! Last week I posted a review for the Costco Kirkland Signature Colombian Cold Brew Coffee. 
Last time I was at Costco I saw this new Nature's Path Organic Creamy Coconut Superfood Instant Oatmeal and picked up a box to review. I absolutely love breakfast foods so whenever I see a new breakfast item at Costco I immediately want to try it. I've reviewed the Nature's Path Organic Superfood Oats which are also very good as well as the Nature's Path Organic Pumpkin Seed and Flax Granola . 
Cost
I paid $10.99 Canadian for the box of 24 packets of instant oatmeal. Much cheaper than buying breakfast before or at work!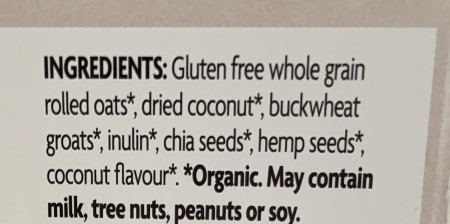 Convenience
So you can use these to make hot oats or you can make overnight oats with the oatmeal by adding non-dairy milk, dairy milk, yogurt and water or just water and letting them sit out overnight. I prefer overnight oats in the summer. They're very hearty and actually keep me feeling full until lunch so that's really convenient. The best before date is about a year from the date I purchased the oatmeal.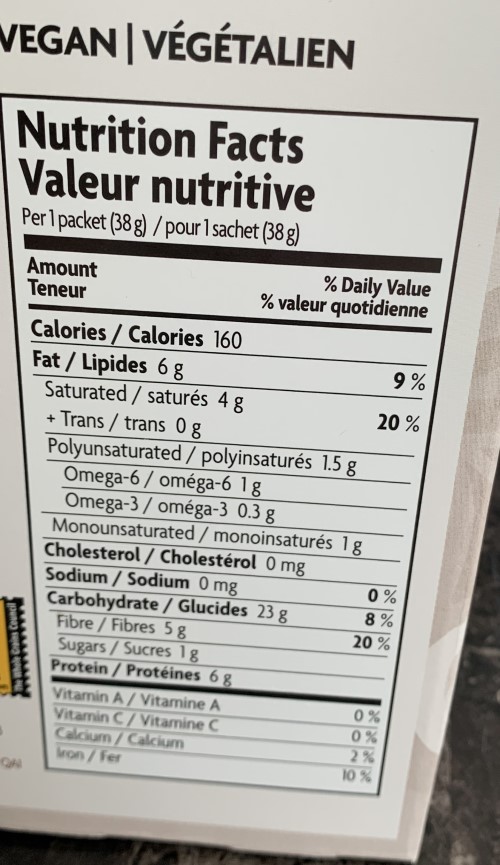 Nutrition
These are gluten free, organic, vegan and non-gmo, each packet has 24 grams of whole grains. One packet has 160 calories, six grams of fat, five grams of fibre, one gram of sugar, six grams of protein and 23 grams of carbohydrates. The ingredients list is short and sweet and full of healthy ingredients.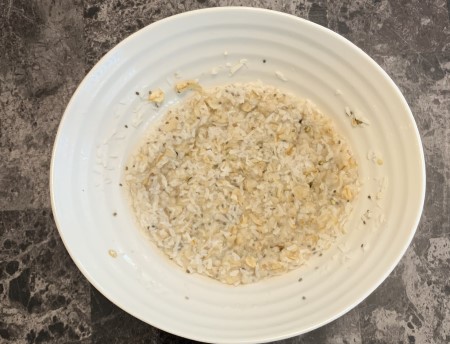 Taste
You have to like coconut to enjoy this oatmeal. If you like coconut I'm pretty sure you'll really enjoy the Creamy Coconut Superfood Instant Oatmeal. It's got gluten free whole grain rolled oats, coconut, hemp seeds, chia seeds and coconut flavor but no added sugar! Only one gram of sugar per packet of oatmeal. If you have a sweet tooth like me you'll notice the lack of sugar because this oatmeal isn't very sweet but the coconut gives it a ton of flavor. You mainly just taste the coconut and oats, the oatmeal does actually have a creamy taste to it which is good! My husband commented that he felt it was missing something but that was probably the sugar! I like to make overnight oats by adding yogurt and water to the oatmeal and letting it sit overnight, it's really good and filling.
My husband isn't an oatmeal guy so I'll be eating these for quite some time but I find they're a convenient, healthy breakfast option! As I said before if you buy these make sure you enjoy coconut!
Cost: 8/10
Taste: 8/10
Convenience: 10/10
Nutrition: 9/10
What's your favorite breakfast cereal/oatmeal or granola to buy from Costco?